Posted by Huw, 10 Aug 2023 14:00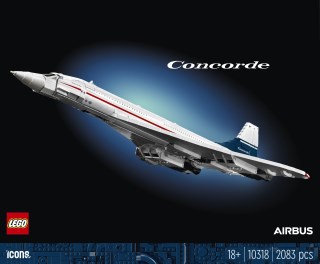 Hot on the heels of the teaser and numerous leaks, here's the press release and official imagery for the Concorde:
10318 Concorde
2,083 pieces, rated 18+
$199.99 / £169.99 / €199.99
Available from 4th September at LEGO.com
The LEGO Group today unveils a set that is sure to reach new heights – the LEGO Concorde Set. Arguably one of the most iconic and famous aircraft in history, the Concorde could cruise twice as fast as the speed of sound.
An engineering masterpiece, the Concorde now comes in LEGO brick form. Built in the 1960s as part of a joint venture between the United Kingdom and France, the Concorde was the first supersonic passenger carrying commercial aircraft. This 2083-piece set is an accurate scale model of the aircraft, that can be showcased in the home using the display stand, allowing the possibility to pose the brick-plane either in flight mode or tilted mode for take-off and landing.
---
The set is also rich in detail, with a removable roof to show off the opulent cabin interior, landing gear, as well as the nose and visor tilts. It measures 105cm in length with a wingspan on 43cm.