Posted by

Huw

, 26 May 2021 12:00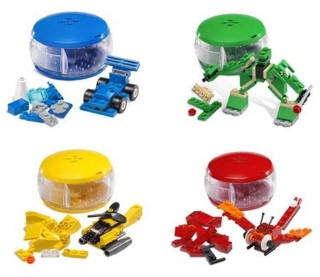 It's time for Blocks magazine's back catalogue to open up! Print subscribers now get free access to the digital library of more than 80 issues – that's over 9,000 pages – of LEGO features, reviews, build guides and more.
All the information on getting a Blocks subscription, including the extra subscriber benefits, is available here.
Each day this week Brickset is exclusively sharing one feature from the archive. This one goes all the way back to the second issue, when I shared the fascinating story of LEGO Creator X-Pods…
---
Fifty piece Creator sets might seem an odd choice of subject for this column but for me they are particularly interesting and offered me the opportunity to collaborate with the design team behind them.
Until 2003, LEGO's System sets for older children were almost entirely focussed around the minifigure: most sets featured them and models were to minifigure-scale: cars, houses, boats, space ships and so on. Then, in 2003, LEGO introduced Designer sets (which later become known as Creator) which were rich in basic bricks, plates and slopes and without a minifigure in sight. They came with thick manuals containing instructions for multiple models and inspiration for many more. The first batch included sets for building fish, insects, wild creatures, robots and micro-scale aircraft and trucks.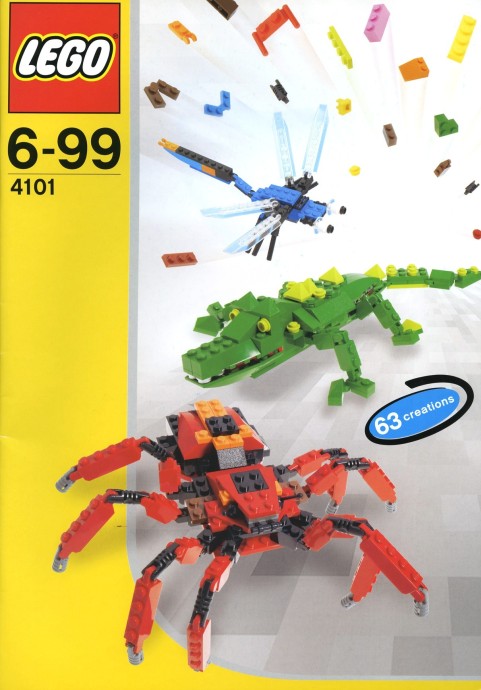 Designer sets were a huge success and in 2004 many more were introduced, including four X-Pods, which are the subject of this article. These 50-odd piece sets came with a large pod into which all the parts of the set could be stored. The idea behind them was to encourage kids to take their LEGO with them wherever they went and, while many subsequent sets have been packaged in cans and other plastic boxes, X-Pods are one of the few to come with a container that can be used both to store the pieces and as part of models.
The four sets, each featuring a different colour pod and parts, contained a very versatile selection of pieces that enabled multiple models of a particular type to be made: the red pod contained parts most suited to making small creatures, the yellow one aircraft, the green one robots and the blue one vehicles.
Unlike the larger Designer sets the instruction booklets contained step-by-step instructions for several models, one of which included the pod in it, photographs offering inspiration for many more, and also a combination model that could be made from two X-Pods.
The pod itself consisted of three parts: a transparent canister, a lid and a base. The canister had loops on either side to enable it to be attached to a belt or similar. Interestingly, it had studs on the bottom which, when up-ended, meant it could be used as a display stand for your models. The lid and base could be connected to each other, a characteristic which was often exploited in the models shown in the instructions.
What particularly impressed me about them was their versatility: the red and yellow pods in particular contained a fantastic selection of parts that offered almost endless possibilities, which is exactly what's needed if you are to take a pod with you on a day trip or holiday. The blue pod was perhaps the weakest in this regard because the bulk of the parts in the set were wheels, tyres and axle plates which are arguably less versatile than the parts in the other pods.
Following their release, there was a flurry of online activity with people sharing their creations made with them on Brickshelf and on LEGO forums. My own enthusiasm was noticed by Jake McKee, who at the time was part of the community team in the LEGO company. He'd been asked by the lead designer working on the Creator line, Paal Smith-Meyer, to find someone who would be interested in building a website to showcase X-Pod creations and in particular to encourage people to take their models outside and photograph them at famous locations around the world.
Jake thought of me and following a couple of days at Billund with the X-Pod team and a few months of programming, a website was born, called X-PodWorld.com.
One of Paal's ideas, to have models pinned on a map of the world, was way ahead of its time and unfortunately unachievable with the technology – and my limited skills – of the day (Google Maps didn't arrive until 2005) but nevertheless as a gallery of pictures of X-Pod models in famous places, it was a success.
Loch Lomond, Scotland
Later in 2004 a fifth X-Pod, 4335 Black Robot Pod a recoloured version of the green Robopod, containing black and orange pieces, was released in North America in time for Halloween. Shortly afterwards, a board game, set number 65535 X-Pod Play Off Game Pack, was also made for the North American market. It contained the five X-Pods, a game board and cards, and instructions for playing some sort of strategy game. I've never played it, but looking at the lengthy instructions now it would appear to be far too complicated!
Also in 2004, polybag versions of the original four sets – minus the canister – were produced, although I'm not sure where they were available from, they certainly weren't seen in the UK.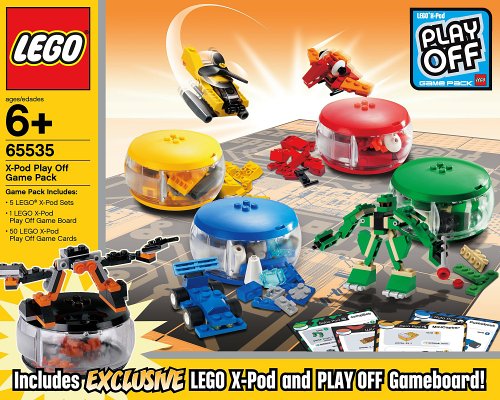 Four more X-Pods were released in 2005 in a new range of colours and with tinted transparent canisters, then four more in 2006 which, unlike earlier sets that came in plastic bubble-packs, were packaged in cardboard sleeves. Although many were excellent, none quite matched the versatility of the first series in my opinion.
Unfortunately that was the last we saw of them. I'm guessing that the canister was an expensive part to produce, which might have led to their demise. One thing I learnt on my trip to Billund was that the design team was not entirely happy with the design of the canister because the lid didn't lock securely and it was too easy for it to be popped off unintentionally by gently squeezing the sides, but they ran out of time to improve it. However, as the base and lid have an axle hole, and the canister a round hole through the middle, it's possible to use a Technic axle keep them together more securely.
It's fairly easy to pick up new X-Pods on eBay and BrickLink for close to their original price. All of them, that is, except one. The red pod is now extremely hard to find thanks entirely to a MOC made by the Arvo Brothers of Kaneda's Bike from the anime film Akira. Their model was so popular that they published a book of the instructions in 2014. It uses no less than 6 lids from the red X-Pod which, needless to say, have become rarer than hen's teeth as a result.
So, what became of X-PodWorld.com? Once the X-Pods themselves had been discontinued in 2006 interest in the site waned, so it went offline later that year. You can get a feel for what it was like at the Wayback Machine Internet Archive.