Posted by

Huw

, 11 Sep 2021 10:00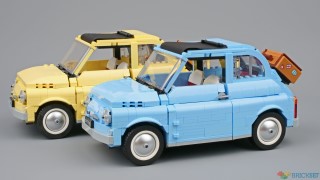 77942 Fiat 500 is a re-coloured version of 10271 that was released last year.
It's only available from two retailers: LEGO and Zavvi. LEGO will only ship it to UK customers so if you live elsewhere you'll need to buy it from Zavvi, who will ship it worldwide. It's out of stock at the moment but it can be pre-ordered for delivery sometime in November, after which no more will be available.
In this article I will compare it with the yellow version, so I encourage you to take a look at our review of that one if you've not done so already.
---
As far as the build is concerned they are identical in all but colour, but there are some subtle differences between the stickers.
As before, there are three number plate stickers to choose from, of which two have been changed to match the new set number, DK 77 942 and PN 77 942. TOFO 1965 remains the same.
A common complaint with the older one was that the pieces were various shades of yellow. I don't think colour consistency is such a problem with this one, although there are a few parts that are visibly different under certain lighting conditions.
A Union Jack flag has been added to one of the suitcase stickers which suggests that the decision to produce the set specifically for the UK was taken early on in the design process. It's a shame that a UK number plate was not also provided, and the vehicle converted to right-hand-drive, although I concede that it would have required a lot of additional work, re-doing the instructions and so on.
The painting has been changed to match the colour of the car and there are other subtle differences, too, for example the foreground is yellow, there's no signature on the bottom left, and the colour of the left of the Colosseum is not the same.
Although the model is not as sophisticated as some Creator Expert vehicles, it's one of my favourites. Designer Pierre Normandin has done an admirable job of capturing the vehicle's curves and charm, and the pair of them look great together. Perhaps we'll see a light green one next!
If you're in the UK you can purchase both sets at LEGO.com. The blue variant is also available at Zavvi and if you're resident elsewhere that is the only place you can buy it. Their initial stock has been depleted, but you can pre-order it now for delivery in November.
---
Thanks to Zavvi for sending the set for this review. All opinions expressed are my own.