Posted by

Huw

, 22 Nov 2021 08:00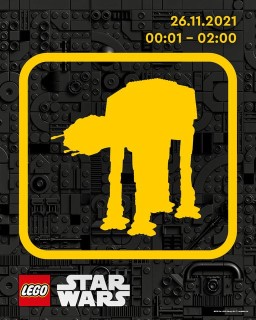 The UK's flagship store in London's Leicester Square will be opening at midnight on Friday to enable you to purchase a 75313 AT-AT as soon as possible.
It's going to be a bit of a palaver to do so, though. To attend the event you first need to obtain a wristband — of which there will be 200 available — from the store on the Thursday from 10:30am. Once you have one you'll have to come back later to access the store between midnight to 2am, having queued outside for a lengthy period of time beforehand, no doubt.
Attendees will receive a currently unspecified 'special midnight opening gift' when purchasing the £700 AT-AT. It would be disappointing if it's just 40483 Luke Skywalker's Lightsaber which, we believe, will be available to buyers of the four-legged walker online during the BFCM weekend.
Presumably the store will have enough stock for everyone that attends, and hopefully some left over for people arriving at a more civilised time in the morning.
Temperatures are set to plummet to just above freezing on the Thursday night but if that doesn't put you off you can find out more about the event at LEGO.com.
Are you planning to attend? Will you be queueing outside your local brand store on Friday morning to buy the AT-AT?