Posted by

CapnRex101

, 27 Dec 2021 11:30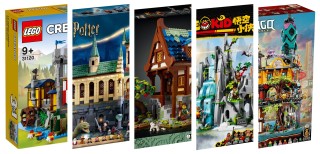 LEGO has released some 895 sets during 2021, including 849 minifigures or characters and originating from 31 different themes.
We are inviting Brickset readers to submit their nominations in three categories, answering the following questions:
What is your favourite set released during 2021?*
What is your favourite set costing below $40 of 2021?*
What is your favourite minifigure released during 2021?**
Please submit your nominations in the comments. The most frequent or 'liked' submissions will be forwarded to concluding polls in each category and they will be published during the next few days, determining the most popular sets and minifigure of 2021!
We look forward to reading your responses!
* Please remember to indicate which category your submission refers to. Sets costing less than $40 can appear in the overall poll, should they receive enough nominations.
** Minifigures, mini-dolls, bigfigs and characters are eligible for selection.