Posted by

CapnRex101

, 29 Aug 2021 15:00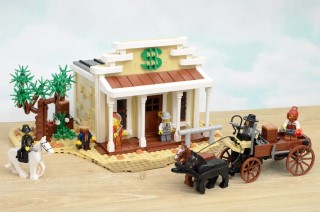 LEGO Ideas has continued to impress during 2021, providing four marvellous models based upon designs which previously achieved 10,000 supporters.
Several thousand further creations continue to gather support and we have picked seven such submissions that could, in our opinion, become successful LEGO Ideas sets.
---
Great Ball Contraption Showcase

by jazlecraz
1047 supporters, at time of publication
Great Ball Contraptions, commonly known as GBCs, are ever-present at LEGO conventions around the world. An official model that showcases this ingenious concept may increase their popularity even further, introducing new adults and younger generations to these mesmerising machines!
The wonderful Great Ball Contraption Showcase, constructed by jazlecraz, would undoubtedly appeal to a broad audience. The model comprises several connected sections that incorporate different mechanisms to convey the balls, each focusing upon unique LEGO themes. I think the project looks outstanding in its current form, but may also be adapted to varied sizes or themes during the review process, potentially increasing its chance of success.
Find more information and support the project here.
---
Gremlins

by bulldoozer
2753 supporters, at time of publication
LEGO Dimensions introduced several new licences, many of which yielded exceptionally few products. Gremlins is among them and this rendition of the Peltzers' house includes excellent detail from the movie, balanced with a size that could plausibly become an affordable set. The model was designed by bulldoozer, whose past contributions include the project which inspired 21324 123 Sesame Street.
Beyond its appealing exterior, the interior includes various notable references and I think the minifigure selection appears satisfying too. The horror genre has been underserved in LEGO sets, especially among licenced themes, but this Gremlins project could redress that omission and attract new potential fans to LEGO, while also pleasing established fans.
Find more information and support the project here.
---
Tuscan Villa

by Galaxy333
4383 supporters, at time of publication
Certain architectural styles are instantly evocative of particular regions and this Tuscan Villa, produced by Galaxy333, captures the atmosphere of the Italian countryside. Beyond looking magnificent, the building exhibits various interesting construction techniques and contains an extensive interior, recalling 21325 Medieval Blacksmith in style.
Admittedly, the model might require scaling down to become a successful LEGO product, but the idea certainly provides considerable potential, embracing a famous architectural style that has been continually overlooked. In fact, we can already identify the perfect designer to revise the model, since Wes Talbott possesses LEGO Ideas experience and previously designed the superb 41379 Heartlake City Restaurant, embracing equivalent architecture!
Find more information and support the project here.
---
Frontier Bank Heist

by Carbohydrates
755 supporters, at time of publication
LEGO Ideas has provided the perfect opportunity for paying homage to classic LEGO themes, including Pirates and Castle. Frontier Bank Heist, assembled by Carbohydrates, could occupy the same role for Western, updating this renowned range with modern building techniques and elements by portraying an exhilarating bank heist.
The models appear impressive and include numerous functions, demonstrated in photos and videos available on the Ideas project page. Additionally, I think the size of this scene would be realistic when compared with 21322 Pirates of Barracuda Bay and 21325 Medieval Blacksmith. There is also potential to include further references to the classic Western theme, if desired.
Find more information and support the project here.
---
Spartan Helmet of Leonidas

by Delusion Brick
3825 supporters, at time of publication
The Classical World remains almost completely unexplored in LEGO sets, appearing only in Collectable Minifigures and 10276 Colosseum. This rendition of an attractive Spartan helmet captures outstanding detail and would benefit from the recent increase in the number of drum-lacquered elements which appear in official sets.
Comparable display models have previously proven successful on the LEGO Ideas platform, hence I think Leonidas' helmet might succeed as well. Collectable Minifigures inspired by the Classical Period have achieved enormous popularity and this excellent model could therefore prove similarly popular, especially if assembled in beautiful drum-lacquered gold!
Find more information and support the project here.
---
Thomas the Tank Engine

by KaijuBuildz
5580 supporters, at time of publication
LEGO DUPLO has included several products based upon Thomas the Tank Engine, the most recent of which were released during 2009. Nevertheless, the famous steam engine maintains tremendous popularity and this impressive rendition of Thomas, designed by KaijuBuildz, could become an enjoyable Ideas model.
21326 Winnie the Pooh demonstrates the clear potential in revisiting classic subjects intended for children, which Thomas the Tank Engine could certainly satisfy. The model looks absolutely excellent and its modest size might improve its chances of passing review, since the majority of modern LEGO Ideas projects are comparatively large.
Find more information and support the project here.
---
Albert E. & the Old Observatory

by MOCingBrick
473 supporters, at time of publication
Space has become a consistent subject for LEGO Ideas products, including many exploratory craft and others. Albert E. & the Old Observatory, created by MOCingBrick instead portrays an earthbound observatory, based upon a real building in the Dutch city of Leiden. The model has obvious visual appeal, featuring attractive architecture without appearing excessively large.
Furthermore, the set contains an Albert Einstein minifigure which should enhance its appeal, given the exceptional influence of Albert Einstein. Examples like 21325 Medieval Blacksmith demonstrate LEGO's willingness to release standalone buildings and I think this model could achieve sufficient popularity to warrant production, appealing to both lovers of astronomy and architecture aficionados.
Find more information and support the project here.
---
Have you supported any of these projects and which others do you think deserve attention? Let us know in the comments or contact us if you would like your creation to be discussed in a subsequent LEGO Ideas showcase. Please note, however, that we will only feature those that we believe have a good chance of achieving 10,000 supporters and could plausibly pass review.