Posted by

Huw

, 23 Apr 2021 10:00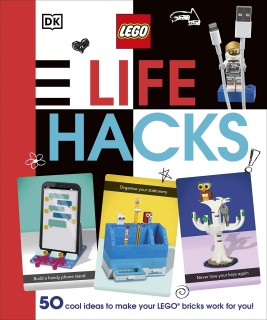 LEGO Life Hacks: 50 Cool Ideas to Make Your LEGO Bricks Work for You! is a new book that's just been published by Dorling Kindersley.
It presents ideas for using LEGO to build solutions to everyday problems and to "help streamline your life and accessorise your space".
The models have been designed by two well-known British AFOLs: Nate Dias, winner of LEGO Masters UK series 1, and Barney Main.
---
The projects in the 125-page softback book are grouped together in chapters covering useful tricks, tech hacks, stationery hacks, ideas for upgrading your room and whacky inventions. There are a few useful and practical ones, for example drinks coasters, a playing card holder, tablet stand, and book ends, but most are simply fun and frivolous.
There are no instructions as such, instead the projects are illustrated with copious images which in most cases provide enough detail to replicate the models. In any case, the idea is not necessarily to build them exactly but to use them as inspiration for your own designs.
The models are well-designed, colourful and fun, but I do wonder how practical many of them actually are. There are none that I'm desperate to build myself, but that's perhaps because I've already 'hacked my life' with LEGO when I've had a need to.
Nevertheless, the book will serve as an eye-opener to those that consider LEGO to be nothing more than a toy. It shows that it can be put to practical use in a wide range of applications around the home.
The book is available now, for £8.79 at Amazon.co.uk and $14.99 at Amazon.com and you can't really go wrong at that price, even if you build nothing in it.
---
Thanks to DK for sending the book for review. All opinions expressed are my own.