Posted by

Huw

, 21 May 2021 15:45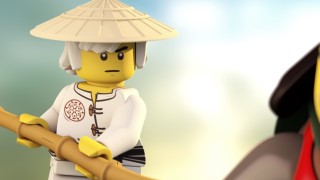 You may recall that last year we introduced LEGO World Builder, a story development platform at which fans can pitch creative ideas to the LEGO Group. We also published a follow-up article written by Brickset member GoldenNinja3000 that explained how it worked.
In it, he mentioned that he had one of his ideas purchased by the company and, now, eight months later, it has come to fruition. In this article he shares his experience of using the platform and reveals what happened next:
Hi, I'm GoldenNinja3000, and I'm a LEGO World Builder moderator as well as the first person to have their idea purchased and developed by the LEGO Group!
Today, LEGO released "Golden Hour", an animated short film based on my "Ninjago: What If…?" idea that was published during the platform's beta testing stage, several months before I became a moderator. I'm here to talk about the production process and hopefully drum up some more interest in World Builder, since it's a great opportunity for fans to work with LEGO!
---
"Ninjago: What If…?" was created from a prompt about the 10th anniversary of LEGO Ninjago, and my concept was selected to be part of a series of shorts LEGO had already been planning.
I've been a Ninjago fan from the beginning, since I was 10 years old when the series started airing. I distanced myself from the franchise a bit during high school, but I remained a fan of LEGO in general and continued to buy Ninjago sets. My YouTube channel, GoldenNinja3000, was created during the height of my obsession in 2012, as evidenced by the name, which ended up being surprisingly relevant to the "golden ninja" theme of these five short films.
I created my 10th anniversary world as a tribute to previous seasons of Ninjago with an original story that would further develop the characters and set the stage for future seasons. I had thrown the concepts together pretty quickly out of excitement for the prompt, and pretty much forgot about the world when I was done outlining plots around the first three seasons, which are still my favourite.
However, in July 2020, I got an email saying that LEGO was interested in purchasing my world to develop into a short video for social media/YouTube. On LEGO Ideas, you need 10,000 supporters before your idea is even considered for development, but on LEGO World Builder, all you need is a great concept that catches someone's attention. My world didn't have as much engagement as others, but the LEGO Group loved it, which means that really anyone could have their world chosen.
One of the biggest questions I think a lot of AFOLs will have about World Builder is "how much involvement will I have in development/production as the creator?" I assumed that this was a situation where my idea would be bought, and then I'd have little to no involvement going forward, but to my welcome surprise, the teams at Tongal and LEGO were very interested in keeping me involved with production.
I got to do the initial and final outlines for the video with suggestions from the team about what to change from my original idea, and I also got to weigh in on the script and select the scenes from the TV show that were featured in the short. I also got to sit in on other parts of the process, like the voice recording sessions and animation meetings, even though I didn't really have anything to contribute there.
Although a lot of my work was with the Tongal team, I also met and worked with entertainment professionals at LEGO, including the co-creator of Ninjago, Tommy Andreasen. In the end, you can choose how involved you'd like to be in the process. I chose to be as involved as possible since I was really excited about this opportunity, and I'm interested in the filmmaking process, but there were no expectations placed on me from the beginning if I didn't want to be a big part of development.
I don't really have anything negative to say about my World Builder experience, as the only disappointment I have stem from the things I didn't get to do from my original idea. Since "Ninjago: What If…?" was turned into a short film instead of the television season I was envisioning, the central idea understandably changed quite a bit, and this short film didn't have the astronomical budget it would need to have to make all my dreams a reality.
Although the plot of "Golden Hour" differs from what I expected, I was thrilled to bring back fan-favourite villains and provide answers to the Season 7 finale cliffhanger that Ninjago fans have been asking about for years. As a 19-year-old LEGO fan, getting to make my mark on Ninjago history was an amazing experience, and I think that World Builder is already a success purely because it lets fans work with the LEGO Group directly to bring their entertainment ideas to life.
I applied for a moderator position with the World Builder team as my work on the short film wound down, and I was lucky enough to get the job and continue working with the great people over at Tongal. I'm loving all the awesome creations on the platform and I hope to see other truly original ideas like Holiday Heroes green-lit soon and not just worlds tied to LEGO franchises like mine!
I'll be hosting a "Golden Hour" watch party and AMA on The Fold's Discord server today at 1 PM EDT which anyone is welcome to attend!
You can watch the short, and a behind the scenes video, below. Thanks for reading!
Reimagined – Golden Hour
[embedded content]
Behind the scenes:
[embedded content]