Posted by

grahamh_100

, 17 Apr 2021 10:00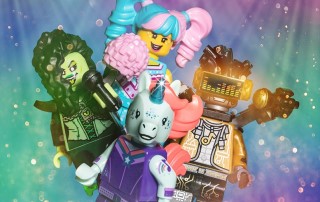 There was a hot news item recently here at Brickset – a supermarket had heavily discounted a VIDIYO BeatBox, which led to the question of whether the theme has 'flopped'. An incredibly lively discussion ensued in the comments section and I felt like I wanted to throw in a new perspective.
As editor of Blocks magazine, I have to think about what we include in the title each month based on a number of factors. One of the biggest is relevance; what is relevant to our readers? Blocks is produced for adult fans – although of course we love that there are families, TFOLs and children who enjoy it too.
---
VIDIYO isn't aimed at adults, and out of all of the children-targeted sets, I know it's not the first theme adults will be itching to collect (although the minifigures and tiles are likely to tempt a fair few AFOLs). Star Wars, Harry Potter, Marvel et cetera are always going to have a big pull over something like VIDIYO.
So why did we put VIDIYO on the cover and make it our main feature for the latest issue? Because it's unlike anything else that the LEGO Group has launched. For anyone who has an interest in how new LEGO products are developed, VIDIYO is fascinating. It took longer to get there than a standard theme, it involved a different way of thinking about design and the team thought about how to infuse it with LEGO while also pulling in new children who don't already love LEGO.
Talking to Will Thorogood, Morgan Walker and Ross Haynes really allowed me to understand how this theme came to be, how they went from imagining what a LEGO music experience would look like, to then coming up with the app concept, the BeatBox sets and the BeatBits. It was so clear how much passion and creativity they had put into developing it.
I'm not saying that everyone should rush out and buy VIDIYO sets or declare that they love it – but for those who have really cynical views about this theme or think there was some lack of effort involved it, I really would recommend reading our feature in Blocks magazine Issue 78. Even if you still aren't a fan of VIDIYO, I think you'll at least appreciate the creative process that went into it an understand why it is what it is.
This is just my hunch – but I also think it's too early to count VIDIYO out yet.
Here is a small excerpt from the feature that will give you a taste of how it all began:
Music came up as a new area that the LEGO Group hadn't tapped into before and the Creative Play Lab team started exploring it, around three and a half years ago. 'You've got the LEGO system of play, you can put the bricks together in an infinite number of ways. On the other side, you have music, which is a select number of notes that work together and can be combined an infinite number of ways to make all music that's ever existed,' says LEGO Creative Play Lab Vice President Will Thorogood.
'There must be some way to bring these two worlds together. That was really hard, we spent a lot of time exploring a number of opportunities. A lot of great ideas came out, but none were a perfect fit. Some were great music ideas, some were great LEGO ideas, but none of them fitted that magic mix that we were going for in the middle.'
That lack of a big idea meant that after several weeks, there was talk about closing the project down. But the Monday morning after it seemed destined to be shelved, Design Director Morgan James Walker came to Will with a sheet of paper.
'Over the weekend he had that lightbulb moment,' Will recalls. 'We sat down over a coffee underneath the stairs in Creative Play Lab and he got a bit of paper out of his bag. He had drawn up basically the core of VIDIYO, this idea of scanning minifigures into an augmented phone app, bringing them to life in your world and making music videos with them. The core of the idea was so simple and so brilliant.
'We absolutely had to find a way to make this happen. At that point, we had no idea how to do it technically, we had no idea how to do it from a business point of view, we had no idea how to do it from a partnership point of view. All of these things were big, unanswered questions.'
Morgan, who had that lightbulb moment, was passionate about finding a way to combine music and LEGO. 'I'm first and foremost a massive music fan,' he enthuses. 'I came to music late in life – I believed the popular myth that music was for super talented people who were in the school orchestra. When I was in my twenties, I finally got a guitar and got a band together – I realised what I'd been missing out on, I just loved the process of jamming.'
You can buy single issues and subscribe to the magazine at Blocksmag.com.