Posted by

CapnRex101

, 07 Jan 2022 10:30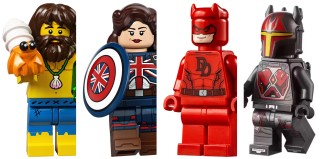 Towards the end of last year, we invited Brickset readers to nominate and vote for their favourite minifigure of 2021.
More than 6500 votes were submitted and we are now ready to announce the winner!
Winner: Captain America (Sam Wilson) – 634 votes
Captain America (Sam Wilson)

– 634 votes

The Mandalorian (beskar armour)

– 536 votes

Daredevil

– 536 votes

Bro Thor

– 457 votes

Captain Carter

– 431 votes

Shipwreck Survivor

– 417 votes

Gar Saxon

– 400 votes

Beekeeper

– 309 votes

Scarlet Witch

– 289 votes

Nya NRG

– 263 votes

Wile E. Coyote

– 263 votes

Centaur Warrior

– 258 votes

Tigger

– 252 votes

Dark Trooper

– 247 votes

Bo-Katan Kryze

– 243 votes

Black Falcon Knight (male)

– 235 votes

Space Police Guy

– 233 votes

Ancient Warrior

– 226 votes

Marvin the Martian

– 189 votes

Nearly-Headless Nick

– 137 votes
---
I think the victory of Captain America (Sam Wilson) is well-deserved. The minifigure features extraordinary detail, covering absolutely every surface and perfectly recreating the character onscreen. Sam Wilson also received the greatest number of nominations.
Marvel minifigures performed remarkably well, occupying four of the top five spots! The sheer quality of 71031 Marvel Studios Collectable Minifigures was undoubtedly important here and I think that series established a new standard of excellence for subsequent series of Collectable Minifigures to match.
The Mandalorian, wearing his beskar armour, is also an impressive minifigure. However, I was pleasantly surprised that voters overlooked its frequency during the year, since such repetition can sometimes detract from the appeal of certain minifigures. Perhaps that also had a positive influence as many people were able to add Din Djarin to their collection.
---
The results from our polls ascertaining your favourite set of 2021, along with your favourite set costing less than $40, will be published shortly.
Are you surprised by the result or the exceptional performance of Marvel minifigures this year? Let us know in the comments.