Posted by

Huw

, 08 Jan 2022 10:00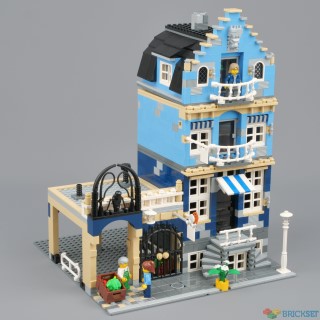 A few months after the first modular building 10182 Café Corner was launched, a compatible set, 10190 Market Street, was released later in 2007.
Unlike the café, which was a Creator set, this one was branded LEGO Factory, a precursor to LEGO Ideas. Users could design models digitally, upload them, then purchase the parts to make them, which came in a custom-printed box. Several fan-designed models were made into official sets, including this one, which was designed by Eric Brok, a prominent Dutch AFOL who was (like me) one of the first LEGO Ambassadors.
I have been unable to find out exactly how he came to be involved, but an interview with him in BrickJournal issue 8 provides information on how it was designed in conjunction with the Creator team shortly after Jamie Berard had finished Café Corner, and that it was intended to 'showcase a fan design, to promote the design-it-yourself vision of LEGO Factory'.
Unfortunately, Eric passed away in June 2007 so never got to see it on the shelves, but his legacy lives on in this set.
---
The building sits on two 16×32 baseplates and is connection- and pavement- compatible with 10182 Cafe Corner, which I think we can safely assume is as a result of the collaboration with the Creator team.
The architectural style and the use of the building could not be more different, though. This one comprises a three-storey townhouse on top of a basement, with a small garage on the side. Its distinctive design reflects Eric's Dutch heritage.
As well as being modular building compatible it's also modular within itself. The two halves of the building have a 16×16 footprint, so sections can be moved around, as you will see later.
There's some very ornate ironwork above the entrance to the garage which utilises an owl and minifig whips. It adds interest and height, but looks out of place to me. Perhaps such things are common in the Netherlands.
The window frames are the old style 1x4x3 train windows used inside-out with window pane pieces. I'm not sure the two were designed to be used together because the pane pieces can be pushed inwards slightly, and very easily, which makes them look odd. You'll probably notice a few instances of that in the photos.
The garage is open on the side and back, so offers no security. There's not much to suggest 'market' other than a couple of crates of fruit and veg (including an early example of nice parts usage in a set: a green Exo-Force hair piece as a cabbage) and a croissant sign hanging outside the house.
The top floor benefits from a small balcony with colourful awning.
Profile bricks have been scattered randomly in the walls to give the impression of flaking paintwork, although I don't think it's particularly effective or attractive. They do, however, help break up what would otherwise be large featureless blocks of colour which is why, I assume, the tan squares that look like they might once have been windows have been added at the back.
The two halves of the model come apart allowing them to be rearranged.
The building itself splits into four sections which can be stacked in any order, and the roof comes off the garage. The balconies in front of the doors can be removed easily which allows for more rearrangement options.
The insides are empty save for a flight of stairs, and at the time of its release there was some criticism that they were in the centre of the floors which limited options for adding an interior.
Here's a tiny house using just the top floor with balcony removed on the basement.
Two storeys with a garage. I forgot to replace the balcony, so be careful when opening that door!
Sections can be placed on top of the garage, but the ironwork above the entrance needs to be removed first.
I forgot to photograph the minifigs and have had to pack away my photography studio while we have visitors this weekend, so I'll use the images from BrickLink. What's interesting about them is that they don't have classic smiley heads. It was not until the release of 10260 Downtown Diner during 2018 that something more expressive would appear in a modular building again.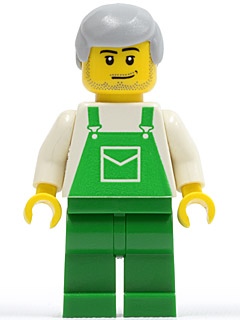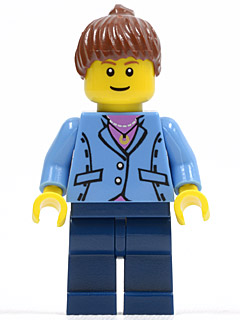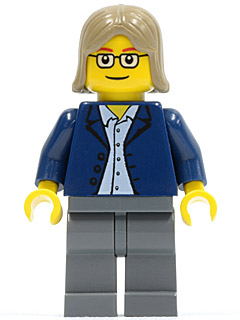 The set contains 1,236 pieces and originally cost £59 / $89, so something of a bargain at the time. However, like 10182 Cafe Corner it's now highly sought after and commands ridiculous prices on BrickLink: £1,500 / $1,800 new and £500 / $800 used.
Other than the owl, and the white hoses and doors, which go for eye-wateringly high prices, the majority of parts are common and relatively cheap. Nevertheless, a quick play with the 'easy buy' feature at BrickLink suggests you would need to spend about £430 / $500 to acquire them all, so still a significant sum.
There used to be debate as to whether it was to be considered part of the modular building series (or collection as it's now known) or not. LEGO made it known in the instructions for the 10th anniversary set 10255 Assembly Square that, officially, it is.
Although I am sure I would have thought it to be a great set when it was released, I'm not so keen on it now, especially when comparing it with other modulars. When considered in isolation it's fine, but I don't think it's aged well, and it doesn't really match the architectural style or design of the café or subsequent buildings. Of course, it made sense at the time to make it compatible with the café, to help establish the standard and encourage builders to add their own designs to their street, but I think it's best left out of it now.
The modular street, 2007-style…
10185 Green Grocer next?