Posted by

Huw

, 03 May 2021 14:00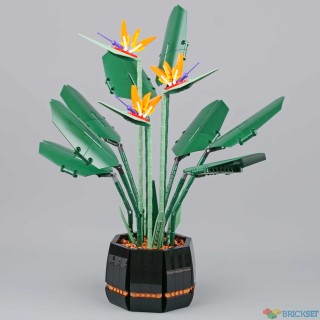 LEGO launched the first two botanical collection sets in January this year. They proved to be so popular that they've been out of stock or on back order at LEGO.com for most of the time since.
The third in the series, 10289 Bird of Paradise, is due for release on June 1st and is likely to be just as well-received, owing to its life-like and attractive appearance.
---
The Bird of Paradise plant, or Strelitzia, is native to South Africa, but can be found growing in many other places that have an appropriate climate. I photographed this flower in Madeira in 2019.
They are also popular houseplants and this model, designed by Chris McVeigh, builds a potted example.
---
Parts
The 1,173 parts are packed in numbered bags. The bulk of them, in bags 1 and 2, are used to make the pot.
Parts in bags 3 and 4 build the foliage and flowers, while bags 5 contain the 'soil'.
---
Construction
The pot is surprisingly solid. It uses plate hinges and 3×6 corner plates to form a octagonal shape with SNOT brackets on the vertices which will be used to attach the sides.
Look closely around the edges of the central circular section and you can just about see gold minifig rings. These are slipped onto axle-pins and are used to provide just the right spacing between the 4×4 circular brick in the middle and 1×2 axle bricks attached to the main assembly. They are marginally narrower than a standard half-bush and, it seems, just the right width.
The sides are formed from 2×2 and 2×8 curved slopes. The four connected to the lime-green vertices have inverted 2×2 curved slopes on the inside which closes the gap between them and their neighbours.
I particularly like the strip of medium nougat pieces around the circumference which looks like a line has been left in the paint before the pot was glazed.
The finished pot is surprisingly heavy, about 600g, which will certainly help prevent the plant from being knocked over.
With the pot complete, attention turns to the plant itself which, save for the flower heads, is constructed almost entirely from Technic pieces. The stems utilise 3-long axle connectors in dark green and, new in this set, sand green.
Three different angle connectors are used as well and if I have any criticism of the set it's that only one of them (#3) is dark green. The others are black or dark grey. This may well be so that they can be differentiated easily when building, but the completed model would have looked better if they were all dark green.
The leaves can be twisted in several directions to enable them to be positioned individually in an organic way.
The leaves are constructed from four Technic panels which have not been produced in dark green before. Together they form a perfect leaf shape, and I'm sure when they were first designed the designer did not imagine they'd one day be used for life-sized foliage!
The best part of the build is left until last: the flower heads. There's nothing particularly complicated about their construction, although I'm sure they were not easy to design in the first place. The purple parts, including a fencing épée, are new in that colour, as is the sand-green 'helicopter blade' and click-hinge connector at the top of the stem.
The end result is beautiful and exquisite, just like the real flowers.
The top of the pot looks a bit unsightly so all that remains is to fill it with 'soil': 200 medium nougat and 100 brown 1×1 round plates.
---
The completed model
Overall it stands about 45cm high and looks spectacular. From a distance it appears very realistic indeed and therefore likely to surprise those who don't know it's LEGO when they come closer.
I guess some people might complain that it's all leaves and not many flowers: that's the reality of houseplants, I'm afraid, especially this one, which takes many years to produce them indoors.
---
Verdict
The botanical collection continues to surprise and delight me, and I am particularly impressed with this one: it's large, realistic, fun to build, and nothing more is needed to display it, unlike the flowers.
There's no doubt that the botanical collection has been well-received, and I am certain that this set will fly off the shelves and out of the LEGO.com stockroom as rapidly as the flowers and bonsai. My advice, then, is to order it on day one because it's likely to go out of stock soon after.
It's priced at €99.99 / £89.99 / $99.99 / AU$169, which is a little on the expensive side particularly when compared to the previous botanical sets. Perhaps their low price fuelled unexpected demand which LEGO has been unable to fulfil, so to help prevent that happening again, this set has been priced accordingly.
It will be available at LEGO.com from the 1st June everywhere but North America, and on 1st August there. It'll make the perfect gift for those that have a knack for killing their houseplants: you can't over- or under-water this one — it'll just require a light dusting now and again!
---
Thanks to LEGO for providing the set for review. All opinions expressed are my own.