Posted by

CapnRex101

, 14 Sep 2021 14:10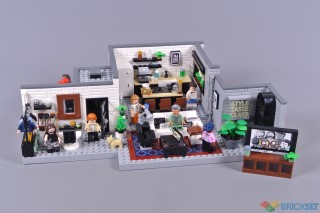 LEGO products have demonstrated remarkable diversity during 2021, encompassing numerous fascinating subjects and acknowledging various social groups. 10291 Queer Eye – The Fab 5 Loft continues that diverse coverage, focusing upon something unusual for LEGO.
Queer Eye features renowned specialists across different areas, ranging from fashion to food, providing makeovers to guests. The Fab Five is therefore immortalised in minifigure form here, populating their spectacular loft. This model exhibits similarities with sitcom-based creations, although its contemporary design is unique.
Box and Contents
18+ products traditionally feature dark packaging, although 10291 Queer Eye – The Fab 5 Loft displays unusually bright colours. The model therefore looks brilliant, with minifigure depictions of the Fab Five appearing underneath. 21328 Seinfeld includes a similar minifigure gallery, with splendid results in both instances.
That minifigure focus continues on the instruction manual, which includes the Fab Five above their minifigure counterparts. Ideally, each expert would be wearing the same clothing as their respective minifigure, although the selection of promotional images available was likely limited. Ten bags of elements, numbered between one and five, are present too.
Queer Eye is perhaps lesser-known than many brands that LEGO has partnered with, hence information about the series in the instruction manual is welcome. Profiles of the Fab Five are provided, discussing each member of the team and their specialist skills, while comments from Tan, Antoni, Karamo, Bobby and Jonathan appear throughout the instruction manual.
Bobby Berk, the group's interior design guru, collaborated with Matthew Ashton, LEGO's Vice President of Design, in developing this model. Such close cooperation is definitely unusual but seems appropriate, especially since Bobby explains his past interactions with LEGO sets and is pictured with 725 Basic Building Set, 7+.
Among various similarities between this set and recent sitcom examples, the blend between printed elements and stickers is another. Seventeen stickers are included and most are fairly small, depicting subtle highlights. The most important decorations are instead printed, notably including nine dark blue 2×4 tiles which comprise a beautiful patterned rug.
Minifigures
Seven minifigures are included and these are truly outstanding, especially given their modern clothing and exceptional detail. Tan France lends fashion advice to participants in Queer Eye and his sand green attire appears accordingly impressive, featuring a vibrant shirt underneath. However, the distinctive pearl silver hair piece is definitely Tan's most distinguishing feature, as this element recreates his onscreen hairstyle nicely.
The element was introduced in 40516 Everyone is Awesome, appearing there in blue. Metallic silver decoration continues on Tan's double-sided head, with highlights in his facial hair. Bobby Berk also features intricate facial hair and two expressions, displaying distinct smiles. Moreover, this common medium nougat hair component appears accurate.
Bobby's patterned shirt is undoubtedly the highlight of this minifigure though, featuring printing across both dual-moulded arms! The design is incredibly complex and I can imagine this piece proving popular among LEGO fans creating their own minifigures, simply because of its superb vibrancy.
Jonathan Van Ness contributes grooming expertise to the group and his minifigure definitely captures perfect facial hair, including an accurate moustache. Both facial expressions and the dark brown hair element look marvellous too, while Jonathan's clothing demonstrates fantastic realism. Additionally, I like the distinctive metallic silver skirt.
The pink jacket belonging to Karamo Brown also appears excellent, while his reddish brown head is exclusive and features impressive detail. However, he lacks an alternative expression because his dark blue cap does not cover the reverse, unlike the other minifigures' hair pieces. Perhaps an entirely separate head could have been provided.
Antoni Porowski includes dual-moulded arms and legs, replicating his tight shirt and shorts. Once again, these compare favourably with Antoni's fashions throughout the television series and the furrowed brow appears accurate, maintaining the incredible standard of realism which distinguishes these interesting minifigures!
Alternative torsos are supplied for Jonathan, Karamo and Antoni, providing further options for each minifigure. They should prove extremely popular, particularly because the skin tones are only exposed around the hands so could easily be swapped. Karamo's bomber jacket features vibrant colours, while Antoni's attire displays LEGO's 'Rebuild the World' tagline on the reverse, replacing 'Thyme Is On My Side' from the original jacket.
Each episode of Queer Eye focuses upon one individual, dubbed the 'Hero', receiving advice and support from the expert panel. Kathi Dooley is among the more memorable participants, having previously been Jonathan's music teacher and receiving a dramatic makeover. These minifigures capture that change, replicating her appearances before and after the experience.
Both minifigures integrate unique torsos, while the double-sided head is shared between them and features different glasses. Furthermore, these hair pieces look excellent, reflecting Kathi's antiquated mullet becoming a modern hairstyle, while the torsos recreate her changed fashion. Diego Sancho has designed these minifigures perfectly.
The Completed Model
10291 Queer Eye – The Fab 5 Loft takes primary inspiration from the location in Atlanta, which appeared during seasons one and two. While this model shares various similarities with 10292 The Friends Apartments and 21328 Seinfeld, the loft portrays a genuine location and the layout has therefore been adapted for display. Sitcom products, meanwhile, have recreated the studio environment instead.
Nevertheless, the scale of the loft is consistent with previous models, measuring 35cm across. Furthermore, the impressive detailing which has defined sitcom-based designs continues here, beginning with Jonathan's grooming area. The stickered mirror and swivelling chair both match the source material, while the clothes rack provides storage for the alternative torsos. They are displayed without hands on the packaging, but not in the instructions.
Despite encompassing changes beyond physical makeovers, fashion and hairdressing remain important aspects of Queer Eye. A neat changing booth is therefore present, where minifigures can emerge to reveal their new appearance. This is cleverly hidden behind a door, ensuring the transformation function remains subtle.
Removing the roof and opening the second entrance provides reasonable access for placing minifigures inside, although space is restricted. This transformation booth is neatly integrated though and turning the black 'splat' gear rotates the carousel inside, hiding one minifigure and revealing another! Encountering such functionality in an 18+ set feels odd, but welcome.
Alternative hair pieces, legs and accessories are stored beside the transformation booth. The selection is somewhat limited, but provides appropriate parts for Jonathan's various hairstyles. Moreover, these elements are hidden effectively when displaying the model, which is evidently of paramount importance.
21319 Central Perk, 10292 The Friends Apartments and 21328 Seinfeld have each included removable sofas at their centre. This creation continues that convention, featuring an elegant white sofa with stickered cushions. The leather chair and coffee table are stylish too, although the table is not secured on the floor and sometimes moves around which is frustrating.
Nevertheless, the furniture looks wonderful, complemented by the patterned rug underneath. Nine printed 2×4 tiles are situated between dark red bands, creating an attractive design that corresponds with the onscreen location. However, employing decorates tiles seems relatively simple beside the rugs that appear elsewhere, requiring elaborate construction methods.
An enormous flatscreen television accompanies the lounge area. Unfortunately, limited space prevents the television from fitting opposite the sofa, although this configuration is appropriate for display. The wooden cabinet looks great and I love the screen, which features the Fab Five in minifigure form surrounding the Queer Eye logo.
Decorative plants are present throughout the loft, combining green and bright green foliage in each instance. They have appeared continually during every series, alongside the neon 'Style, Taste, Class' sign which looks brilliant. This printed component perfectly replicates the original sign, even featuring tiny wires between disconnected letters!
The neighbouring cabinet looks magnificent too, contrasting against the light bluish grey wall and containing various accessories. Masonry bricks are employed to superb effect across the model, including 102 light bluish grey elements and 85 white bricks, which are new. They have previously appeared on Bricks and Pieces, but their origin has now been revealed.
While the aforementioned neon sign is printed, the neighbouring Fab Five and 'Yaaaas Queen' artworks include stickers. The former takes direct inspiration from the television series and the latter makes reference to Jonathan's catchphrase. The window between them appears superb too, including several pots and a folded blind, each correspond exactly with the original Atlanta location.
The opposite wall includes Bobby's blackboard, where he develops interior design concepts. Various sketches adorn this blackboard, depicting a LEGO chair, a 2×2 brick and a 1×1 cone, alongside fabric swatches and photos. Moreover, the apartment floor plan at the centre takes inspiration from that belonging to the graphic designer's mother!
Antoni Porowski specialises in food and wine, hence an elaborate kitchen is included. These units appear exceptionally modern, comprising black and tan elements. The design therefore looks attractive, particularly against the white wall and colourful accessories which present an appealing contrast. Moreover, the spacious floor area is welcome for placing minifigures.
Important features include the sink, coffee machine and a substantial fridge freezer. Various versions of these appliances have appeared previously, but these examples are outstanding. The details are unmatched, although the white fridge freezer appears rather strange because this appliance was silver during the first season of Queer Eye.
White fridges are common in LEGO sets, hence an alternative would have been welcome. The opening doors are distinctive though, revealing various items inside. They include jars and pots beside three stickered boxes. The orange juice carton integrates another fun reference to Diego Sancho's Spanish heritage, reading 'naranjitas' above the orange graphics.
Printed hobs are positioned on the island unit, above the cooker. This is typically hidden from view between the island and the sink, so I am pleased that it can be easily rotated for display, should you wish. Saucepans and bowls surround the hob, although my favourite accessory is definitely the chopped avocado which reflects Antoni's penchant for avocado!
Overall
LEGO has explored many interesting subjects during 2021 and 10291 Queer Eye – The Fab 5 Loft seems particularly unusual. Nevertheless, this model is enjoyable, capturing the important features from the onscreen location and achieving more contemporary styling than comparable products. Of course, the minifigures are tremendous too, closely resembling each expert.
21319 Central Perk and 21328 Seinfeld have elicited considerable attention, reaching beyond their respective fans as both sets provide fantastic value and include appealing elements. This model also comprises interesting pieces and I think the price of £89.99 or $99.99 is reasonable, although not necessarily as enticing as previous examples. Nevertheless, this is undoubtedly an effective celebration of Queer Eye.
This set was provided for review by The LEGO Group, but the review represents an expression of my own opinions.