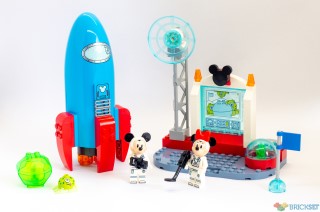 It's no secret that LEGO loves space, and space-related sets have made it into many of LEGO's themes over the years. The new five-set Mickey and Friends subtheme is no exception, with the second smallest of the sets taking everybody's favourite mouse couple into alien territory.
As the theme is aimed at LEGO's youngest builders (excluding Duplo) I handed the set off to my five-year-old daughter to build, along with the other sets in the theme I was provided to review. She built it with ease, and I eventually managed to persuade her to hand it back to me for a while in order to actually write the review!
---
Minifigures
Two minifigures are included in the set, the eponymous Mickey and Minnie Mouse. As is the case with every set in this subtheme, they're wearing an outfit that's unique to the set; every element, barring Minnie's bow, is new.
Both mice are dressed identically in white spacesuits, with simple but effective prints detailing the various life support systems and instruments you'd expect to find. The detail is predominately black line drawings with pale blue highlights, and continues onto the rear of the torso, where you'll find an oxygen tank and additional buttons and vents.
The legs are also printed in a similar style. I like the uncomplicated look of the spacesuits, and there's nothing overtly Disney about them, with the exception of a pale blue Mickey silhouette on the rear oxygen tank. They wouldn't look too out of place in another space-related theme or diorama, however.
As mentioned, both the head pieces are also new. The traditional Mickey and Minnie face prints are the same as previous versions of the characters, but the rest of the head is printed with a white space helmet with silver edging, through which pokes the mice's ears and Minnie's red bow (which is new in red.) I suspect a more substantial helmet would actually be required for survival in space, but these are effective nonetheless, and Minnie's large bow makes it clear from a distance who is who!
---
The Model
The main attraction of the set is undoubtedly the large blue rocket ship. Aimed as it is as preschool-aged children, the ship is predominantly constructed of two large hull pieces; one of these is printed with a window through which some dials are visible, and a stowaway alien!
Although juniorised, the two large hull pieces are new moulds.
Three red fins and a printed tile depicting an access hatch complete the exterior of the ship, along with a couple of trans-orange 2×2 bricks representing engines connected at the base. Another Mickey silhouette makes an appearance on the access hatch.
The rocket is able to either stand upright, resting on its fins (although this only really works on a very flat surface; it wasn't successful on the carpet) or lie flat on its back. With the front of the rocket removed, the interior is exposed. Inside, there's a seat for each of the minifigures, a couple of control panels, a small storage area, and some sustenance!
There's room for both minifigures to sit in a reclined position, and for the rocket to be closed with them both inside, although they will not stay in place as they're swooshed around the room.
To accompany the rocket, there's a small monitoring station built on a 18×16 plate with curves and cutouts, new to this set in sand blue. The station consists primarily of a large printed display, depicting some panels and dials below a video feed currently watching a trio of aliens scurrying around. Above the display is the new Mickey silhouette-shaped tile, and a radar sits atop a scaffold with 360 degrees of rotation.
To the other side of the display we find an instrument that is presumably for monitoring the geology of the alien planet; a trans-bright-green rock crystal sits beneath a transparent dome. The dome is hinged, and can be lifted to extract the rock.
Another of the rocks can be found by breaking open a large boulder of the same colour, inside which you can also find one of the cute aliens depicted on the screen (and shown hiding behind the rocket's window!) The rather goofy single-eyed alien is a new print on a 2×2 domed brick, which is also new in bright yellowish green. The alien's six legs are made up of two 2×2 plates with three teeth.
Finally, the set is rounded out with a simple blue flag on a pole. What space exploration would be complete without marking the territory you've discovered, even if alien lifeforms were there before you! It would have been nice to see it printed with some form of Mickey Mouse or Disney related emblem, though.
---
Conclusion
There's a lot to like about this set. Mickey and Minnie look fantastic, and I love the simple but effective spacesuit prints. Although only 88 parts, the resulting build is still fairly substantial. A lot of that is down to the use of large single parts, and the fact that the models are very juniorised. However, they are aimed at a much younger target audience than us, and both my daughter and son think the set is a lot of fun.
There's a fair amount of play potential, although I would have liked to have seen more than just the lone alien.
My daughter did have one complaint though, which I think will be the reverse of many opinions on here: "ohhhh, I wish they wouldn't print the pictures… I want to put stickers on!" She is genuinely quite disappointed every time there's a set without a sticker sheet.
Overall, both myself and my target age chief reviewer are pretty impressed with this new range of 4+ sets, from the redesigned instructions to the fun builds, and the fairly reasonable price points, especially factoring in the branding licence. This particular set is the same price as the slightly larger 100-piece 10773 Minnie Mouse's Ice Cream Shop, at $19.99 / £17.99 / 19.99€, but comes with both Mickey and Minnie in a unique design. If you or somebody you know is into Disney, I wouldn't hesitate to pick one up.
---
Thanks to LEGO for providing this set for review. All opinions expressed are my own.