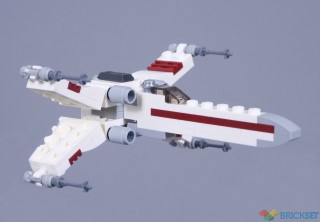 Microscale X-wing Starfighters have appeared in several sets, improving their accuracy and detail frequently. 30654 X-wing Starfighter introduces some interesting upgrades over earlier versions.
The model seems impressive and requires some interesting building techniques too!
Summary
30654 X-wing Starfighter, 87 pieces.
Buy at LEGO.com »
Among many microscale X-wings, this polybag rendition is my favourite
Surprisingly detailed, for its size
Accurate colour scheme
Neat S-foil function
Disproportionate nose structure
The Completed Model
30654 X-wing Starfighter contains 87 pieces, which is substantially more than earlier microscale renditions of the T-65 X-wing. This model is therefore bigger and reaches 12cm in length, which has allowed the designer to capture extensive detail. The dark red stripes look marvellous and I think the decision to exclude other accent colours was sensible, at this scale.
The nose is probably my least favourite section of this model, although recreating the hexagonal shape of the source material would be impossible in a polybag. However, the nose seems much too long here, relative to its width. The grey nose cone looks reasonably accurate though, while the angular cockpit is also effective.
A metallic silver 1×1 round plate represents the Astromech droid, which is fine, but I would have loved to see the printed 1×1 round tile from 75329 Death Star Trench Run Diorama instead. The functional S-foils are perfect though, connected to the fuselage using Technic pins and including dark bluish grey ski poles, for the wingtip laser cannons.
The engine nacelles look splendid when the S-foils are opened. Unfortunately, they do not move with the wings, so their position remains unchanged when the wings are closed. Their narrowing shape towards the back is accurate though. Additionally, I like the pearl dark grey ingots situated between the engines, creating the impression of visible mechanical details.
Overall
Even though the proportions of this creation are not quite as accurate as I hoped, 30654 X-wing Starfighter represents a definite improvement over past microscale X-wings. The S-foils function perfectly and include accurate stripes, matched by the dark red band along the nose. The nose should have been shortened though.
As expected, this polybag has only appeared in certain countries currently. However, the annual Star Wars polybag is traditionally available as a gift-with-purchase on LEGO.com when May the Fourth arrives. Hopefully the same will be true for 2023 because this is an appealing design.