Posted by

Huw

, 07 May 2021 14:00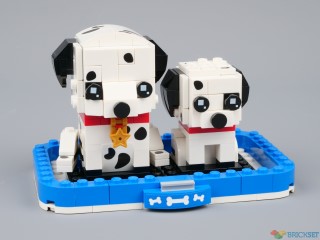 Pets were a surprise introduction to the BrickHeadz theme during January, and it seems that LEGO has more in store for us this year.
40479 Dalmatians, released on June 1st, is the second one to feature dogs. It contains BrickHeadz numbers 131 and 132, so there are six numbers (133-138) unaccounted for, which to me suggests that we'll see three more Pets later in the year.
---
As with the others in the series, the set comes with an adult and a young animal. These are unmistakably dalmatians thanks to the printed spotty pieces, of which there are three different types: three 1×2 bricks, four 2×2 curved slopes, and 22 1×1 tiles.
The design of the bodies is much the same as those in 40440 German Shepherd, but the heads differ significantly, as you'll see below.
All the pets sets come with a 'bed' in which to display the animals, which incorporate the standard 6×6 BrickHeadz stand should you wish to display them to match the non-animal sets.
The small cut-out at the back is there to accommodate their tails.
It's certainly possible that we'll see more dogs released in the series but probably not your favourite breed. However, using the design of these or the German Shepherds as a starting point you should be able to come up with your own variations. Here, for example, is my attempt at Samoyeds, which just happens to be what CapnRex101 owns :-).
The real doggy, for comparison…
Here, then, are all my doggyz…
---
Verdict
This is a delightful addition to the BrickHeadz pets range and one that dalmatian owners in particular will enjoy.
I believe it'll be available from LEGO.com on June 1st, in Europe/ROW, at least, priced at $14.99 / £13.49 / 14.99€.
---
Thanks to LEGO for providing the set for review. All expressed opinions are my own.