Posted by

Huw

, 01 Jun 2021 14:00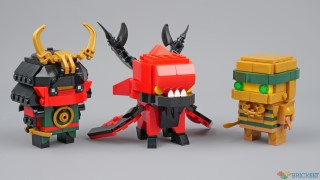 To commemorate a significant anniversary of one of LEGO's most popular themes, 40490 Ninjago 10th Anniversary BrickHeadz has been produced.
It's now available as a purchase with purchase (PWP) in LEGO brand stores during June: when you spend $85 / €85 / £85 on Ninjago products you can buy it for $10 / €10 / £10. It will then be sold more conventionally from 1st July, priced at $29.99 / €29.99 / £29.99.
The set contains three very different blocky versions of Ninjago characters: Nya, Lloyd and Firstbourne the dragon.
---
Nya Samurai X (#146)
There have been numerous minifig versions of Nya has Samurai X released over the years and this BrickHeadz appears to have been fashioned on her appearance in 2015, the Tournament of Elements and Possession variants, which have dark green torsos, a red belt and a round gold motif on the front.
The helmet is the most interesting part of the figure, although it doesn't seem to bear much resemblance to the minifigure version. Characters with elaborate hair or headgear always result in a more appealing BrickHeadz and this one is no exception.
Note the shoulder pads, created using wheel arches.
---
Firstbourne Dragon (#147)
Firstbourne the dragon made an appearance in Ninjago Hunted set 70653 Firstbourne in 2018.
Although quadrupeds have been modelled many times as BrickHeadz this is the first one that is not sitting down or standing on its hind legs.
Two large horns protrude from the back of its head, which is embellished with a scaly texture. A curved tail extends from its back.
The wings are hinged so can be angled at various positions. Unusually for a BrickHeadz it does not have the two-squares printing on its eyes. The beast has an unattractive underbite that significantly detracts its overall appearance.
---
Golden Lloyd (#148)
At first glance this figure looks to be the least interesting of the three but in actual fact it features a few novel building techniques in the body to allow the figure to be constructed from a limited selection of gold parts.
Its square, blocky head is made only slightly more interesting by the addition of a headband.
I believe it most closely resembles njo499: Lloyd (Golden Ninja) from 2019.
A 'Ninjago 10 years' printed tile is provided to embellish the base. Other than Nya's eyes, it's the only printed piece in the set.
---
Verdict
This is an unusual set of figures that will particularly appeal to Ninjago fans. Nya is my favourite of the three on account of her elaborate headgear. Lloyd looks a bit too square and featureless, and I'm not entirely convinced by the dragon, which is unattractive and doesn't really look much like one to me.
Nevertheless, as a PWP for $10 the set is a bargain, although of course it would have been better if it was an outright gift with purchase.
40490 Ninjago 10th Anniversary BrickHeadz is available as a PWP in brand stores now, and will be sold at LEGO.com from July 1st.
---
Thanks to LEGO for providing the set for review. All opinions expressed are my own.