Posted by

Huw

, 02 May 2021 14:10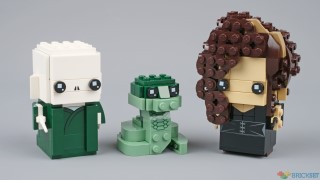 Unlike 40495, which contains new versions of characters that have already received the BrickHeadz treatment, the other Wizarding World BrickHeadz set due for release on June 1st, 40496 Voldemort, Nagini & Bellatrix Lestrange, provides us with three new figures: He-Who-Must-Not-Be-Named, his pet snake, and one of his most loyal followers.
---
Lord Voldemort, the story's main antagonist, is a grotesque-looking character, with a pale reptilian complexion, no hair or lips, and snake-like slits for nostrils.
In the films he's attired in a dark green cape which has been replicated here with the help of a printed brick on his chest.
The Dark Lord's lack of hair and facial features have resulted in a very plain and boring figure, whose only saving grace is the SNOT-work at the back of his cape.
The human-turned-snake Nagini is Voldemort's pet and one of the more unusual creatures to be given the BrickHeadz treatment. I think the designer has done a great job of replicating the serpent's coiled body, neck and head, which is blocky enough for it to pass as a BrickHeadz.
Bellatrix Lestrange, memorably played by Helena Bonham Carter in the films, was a Death Eater and a fanatical follower of Lord Voldemort.
I have said this before, but I'll say it again, 'the bigger the hair, the better the BrickHeadz' and I am not disappointed here! Her long curly locks have been delightfully reproduced and this is easily the most exquisite hair possessed by any of the blocky characters.
It's constructed primarily from dark brown 1×1 and 2×2 round plates so has a texture similar to that of 70904 Clayface Splat Attack which is similarly built. I believe the character's hair is actually black, so black elements would have been more appropriate, but I don't think it would have looked so good, and of course there'd be no contrast between it and her dress.
It looks superb from every angle.
Around 100 dark brown parts have been used in its construction which is more than the total number of parts in some of the simpler BrickHeadz.
---
Verdict
The appeal of individual BrickHeadz very much depends on the suitability of the subject being modelled. Characters that have no interesting features whatsoever result in very plain and boring figures, whereas others with more flamboyant and distinctive characteristics end up being far more satisfactory.
Extremes of both are present in this set. Voldemort is certainly recognisable but because the character is featureless, his BrickHeadz is as a result plain and boring. Bellatrix Lestrange, on the other hand, has the main feature that separates an interesting BrickHeadz from a dull one: a large, distinctive and attractive hair-style. As a result, she is one of the best figures produced so far. That alone makes this triple-pack a must-have for fans of the square-headed figures.
40496 Voldemort, Nagini and Bellatrix Lestrange will be available at LEGO.com from 1st June.
---
Thanks to LEGO for providing the set for review. All opinions expressed are my own.