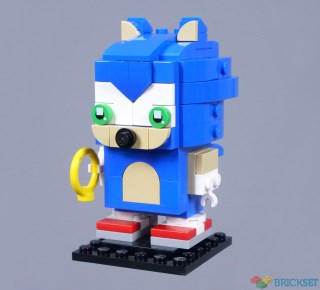 In addition to the minifigure-scale Sonic the Hedgehog sets, Sega's famous hedgehog has also joined the BrickHeadz range this summer. The character's spiky hair and striking colours appear suited for this format and 40627 Sonic the Hedgehog does look good.
However, there was substantial criticism of the figure when it was unveiled, focusing primarily on the unusual eyes.
Summary
40627 Sonic the Hedgehog, 139 pieces.
£9.99 / $9.99 / €9.99 | 7.2p/7.2c/7.2c per piece.
Buy at LEGO.com »
Sonic suits the BrickHeadz format well, although his eyes look strange
Excellent proportions
Good texture across the back
Eyes differ from standard BrickHeadz
---
The set was provided for review by LEGO. All opinions expressed are those of the author.
The Completed Model
Sonic the Hedgehog is instantly recognisable in BrickHeadz form and suits the style of these figures remarkably well, in my opinion. The proportions of the character translate nicely, even though his legs are much longer in the video games. Fortunately, the figure wears large shoes and these give the impression of bigger legs, without deviating from the BrickHeadz standard.
The eyes are therefore odd, as they do differ from normal BrickHeadz eyes, which contain two white squares. These are also decorated with circles underneath and I am not sure why, given the consistency of previous BrickHeadz. Maybe the designer considered these elements more effective with the surrounding white tiles, but I am not convinced any changes were needed.
Otherwise, the head is nicely detailed and becomes increasingly textured on the back, where 1×2 curved wedge slopes form spikes. These certainly make the model appear more dynamic, although I think there was an opportunity for even longer spikes on the head. Sonic comes with a flame yellowish orange ring, created for the aforementioned minifigure-scale sets.
Overall
In some respects, 40627 Sonic the Hedgehog represents a welcome change from the glut of human characters portrayed by BrickHeadz this year. I love his spiky hair and bright colours, continuing even onto Sonic's striped shoes. Deciding to change his eyes, on the other hand, seems strange, given their previously consistent style since 2016.
Even so, I like this rendition of Sonic on the whole and the price of £9.99, $9.99 or €9.99 does remain consistent with other lone BrickHeadz figures, thankfully. On that basis, I think this is a good, thought not outstanding, addition to the theme.