Posted by MeganL, 29 Aug 2023 15:30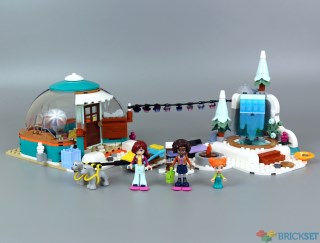 After some very hot temperatures this week in the US, it felt like an appropriate time to look at the two winter-themed Friends sets being released on September 1. I'm hoping that these sets will be a good addition to my Winter Village later this year.
I'll start by looking at the smaller of the two sets, 41760 Igloo Holiday Adventure, which makes great use of the transparent dome pieces also seen in 41757 Botanical Garden (review forthcoming).
Inside the box there are four numbered bags, a 8×16 plate, a string used for connecting the two structures in the set, two instruction books and a small sticker sheet. Several of the stickers were used for some gratuitous decorations, so I ended up not applying those.
---
Minidolls and animals
There are three minidolls in the set – two of the Friends cast, Aliya and Paisley. They're joined by Paisley's little sister, Ella. All three are bundled up for the winter weather. Aliya has a burnt orange coat with beige lapels and trim over a bright pink sweater. She has a blue miniskirt, snug leggings and sturdy boots. Her accessories are a camera and a pair of snowshoes.
This is Ella's second appearance in a set, but the first in this out – a green and teal snowsuit with a zip-up front. She shares the same big blue eyes as Paisley, who is wearing a dark pink jacket with faux fur trim over a yellow cable knit sweater.
The mode of transportation is dog sled, that is pulled by two adorable dogs. I had thought the dogs were the same, but a closer look shows that one has a distinctive mark on its forehead and is smiling, while the other looks to be a little bit older with grey around its muzzle and eyebrows.
---
The completed model
There are two small builds associated with the model – the first is the aforementioned dog sled – plus who doesn't want more pictures of dogs? – and the other is a sign post indicating that you've made it to the igloo. If the box art wasn't clear, this sign is – the igloo has a clear roof to enable viewing the Aurora Borealis, or Northern Lights.
The set includes the named igloo plus some of the local scenery, in this case a wintry waterfall. The scenes are connected by fairy lights, to enable a Friend to get between them in the dark (on those occasions when the Northern Lights aren't showing).
Snow covered tree surround the waterfall and adjoining pool. I rather like the use of multiple shades of blue to add some depth. A fire pit with warming bench is close by. The sled dogs are not forgotten; they have kibble in a dish.
The waterfall flows into a pool that has some stickered accents. The pool mustn't be too deep, as there are steps leading to the pool to make it available for polar plunges. The need for a nearby fire is all too evident now, especially since the Friends are not equipped with a change of clothes for this set!
The fire is ready, unless you have visitors hogging the benches.
(Note: benchwarming sloths not included in this set).
The igloo is equipped with clear roof panels to allow the occupants to view the Northern Lights while staying warm inside. The clear pieces are shiny enough that you can see my photography light setup reflected in them!
Entrance to the igloo is through a door with a wooden doorknob. More stickers applied to clear pieces show snow accumulating on the window sills. A bin is located near the door for handy storage of snowshoes and other cold weather gear.
The roof opens up, allowing wide access to the igloo.
Inside we see three beds – it's clear from the stickers which bed belongs to which Friend – Paisley has the yellow bed with the musical motif, Aliya has the green bed with a notebook, and Ella has the smaller bed in the corner with a picture of a Yeti. Cookies are next to each bed for the girls to munch on for a Northern Lights viewing snack.
I'm not sure if there's room for three Friends and visitors.
(Note: bed warming sloths not included in this set.)
---
Overall thoughts
This is a charming set, and I have to wonder if the transparent dome pieces weren't the seed part for this brief. Having an igloo with a clear dome roof is a great idea, and I'm looking forward to see the different ways that LEGO designers use this part in forthcoming sets. It's helpful that this set is less expensive than 41757 in order to get these parts.
Setting that aside, there's a lot of play value in this set. I love the sled dogs, and really appreciate that LEGO made two different ones, as opposed to just duplicating one of them. The waterfall scene is quite nice and portrays a realistic outdoor scene with not a lot of parts. I particularly like the waterfall.
It's nice to meet Paisley's younger sister Ella, and I like that this is a set focused on some of the core Friends, and it provides some continuity – we see Paisley and Aliya together in 41740 Aliya's Room. Clearly these two hang out quite a bit!
Price-wise, I think it's reasonable, and with the shift to a wider range of colours, means that this set could be placed in a Winter Village just about as-is, unlike previous Friends winter-themed sets. I think I'll place mine on the outskirts, though – otherwise the light pollution from the village will ruin the Northern Lights!