Posted by Huw, 15 Mar 2023 17:00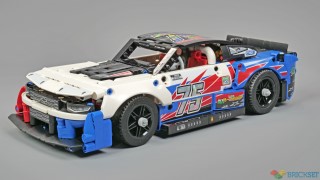 42153 NASCAR Next Gen Chevrolet Camaro ZL1 is the cheapest of the four Technic sets that have just been released and from a Technic fan's perspective it's possibly the least interesting one as well.
Read on to find out if it has any redeeming qualities.
Summary
42153 NASCAR Next Gen Chevrolet Camaro ZL1, 672 pieces.
£44.99 / $49.99 / €49.99 | 6.7p / 7.4c / 7.4c per piece.
Buy at LEGO.com »
Sparkly and colourful but unless you need a NASCAR licenced car you'll be better off looking elsewhere in the Technic assortment
Fits on 42098 Car Transporter
Looks quite good with stickers applied
Not suitable for those with pittakionophobia
Unsightly transitions in bodywork
Would look terrible without the stickers applied
Fictional livery
---
The set was provided for review by LEGO. All opinions expressed are those of the author.
Parts and stickers
This is a sticker-heavy set which relies upon them entirely for aesthetics. The stickers, however, are beautifully printed on a sparkly silver foil backing.
The rear wheel arches are printed which is both a blessing and a curse. It's a curse because you are forced to apply the stickers that match up with them otherwise the model will look a bit odd.
---
Construction
The 627 pieces are spread across four numbered bags, two of which contain parts for the chassis, which incorporates steering via a gear at the back, and a 'working' V8 engine, connected to the rear axle via a differential.
---
The completed model
It's about 27 cm long and 12 cm wide, or about 15 studs, which makes it the same scale as 42093 Chevrolet Corvette ZR1 and the car on 42098 Car Transporter, so it fits onto the latter.
Unusually, it's blue on one side and red on the other, and the colour scheme is entirely dependent on the stickers to tie it together.
The transition between the wheel arches and the inset door panel is very unsightly. I can't think of any parts in the Technic palette that could be added to make it less so, but there needs to be some!
The back of the front one in particular looks terrible, with nothing underneath it, just ending in mid-air.
It's a fictional livery, complete with fictional sponsors, such as Mani Fold, Firm Gripp and EN Gyne.
The bonnet opens to reveal the V8 engine. The tan pins are supposed to go up and down as the cam shaft rotates, but they are a bit too light so some of them don't — gravitational pull is not sufficient to overcome the friction.
White coloured LEGO parts are slightly yellow-y which isn't noticeable unless whiter stickers are applied to them!
I am happy to accept blue pins and red axles as part of the Technic aesthetic, but the use of a yellow connector piece under the steering gear at the back is bewildering given how much it sticks out like a sore thumb. The piece is readily available in black, after all.
It does not really introduce anything new: as you can see it's very similar to the car that comes with 42098 Car Transporter that was introduced four years ago, which also suffers from similar aesthetic deficiencies.
---
Verdict
This is branded as a vehicle that competes in NASCAR, so presumably fans will find something to like here, although given that it's a fictional livery perhaps not as many as had it been a based on a real team car.
Those that aren't fans of the American stock car racing series probably won't be drawn to it, though, particularly as it's so dependent on the stickers for its overall appearance.
However, it's a relatively quick and simple build, so it could be suitable for young Technic aficionados, if they like applying stickers, that is!
It's available now at LEGO.com, priced at $49.99, £44.99, €49.99.