Posted by

Huw

, 24 May 2021 16:00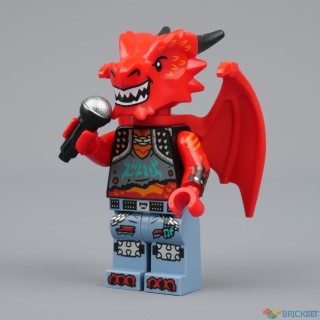 43109 Metal Dragon BeatBox is one of two Vidiyo Beatboxes being released next week.
As with them all, the main attraction for most of you reading this will be the minifigure, which in this case is an anthropomorphised dragon. Or is it the Devil…
---
Most BeatBoxes incorporate brightly coloured pieces, so this black, white and red one may well be more useful to many for use in MOCs.
The back plate decoration depicts a castle, home of the eponymous dragon, presumably.
I built the set before looking at its name and at first thought the minifig was the Devil on account of the horns, although I concede that they usually protrude from the top of Satan's head rather than the back.
It's certainly clear from his clothes that he's a heavy metal musician and not, say, K-Pop!
Various different wing attachments have been produced for minifigs over the years, but I think this dragon one is new. One of the series 2 BandMates comes with transparent blue version. It's one of three new minifg wing elements produced for the theme: butterfly, unicorn and dragon.
Like the others, the BeatBox comes with 16 BeatBits, of which two are unique to it:
Heavy metal is probably the musical genre that I like the least so the minifigure does not really appeal to me, but if it is your cup of tea, or you want to use the head and wings to come up with an alternative dragon, you may well want to pick this pod up once it's been discounted to a reasonable price.
Alternatively, give the figure the fiddle from 43110 Folk Fairy BeatBox and send him down to Georgia…
---
Thanks for LEGO for providing the set for review. All opinions expressed are my own.