Posted by

Huw

, 21 May 2021 12:00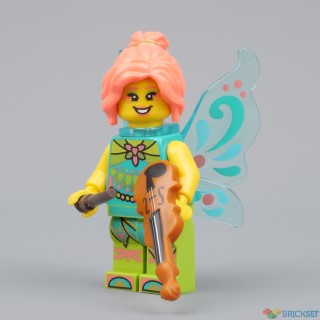 Musicians representing a wide variety of musical genres feature in the Vidiyo sets and next month the folk music violinist in 43110 Folk Fairy BeatBox will be joining their ranks.
She's very colourful and has a wonderful pair of wings!
---
Unsurprisingly, the design of the BeatBox itself has not changed since the first ones were released earlier in the year. My article a look inside a Vidiyo beatbox shows how they go together.
This one comprises a teal minifig stand with spring yellowish green side plates, and a vibrant coral BeatBox storage box at the back.
The lid of the box is decorated with an attractive folksy design
The violinist's instrument first appeared in series 21 minifigure 71029 Violin Kid earlier this year.
BeatBoxes each come with 16 BeatBits which provide special effects for your music videos. 14 are randomly selected from a pool, and two are unique, which in the case of this one are those below.
The minifigure is of course the star of the set. She's attired in a typical fairy dress which has been crisply printed onto her teal torso and lime green legs.
Vibrant coral is not used for hair pieces often, in fact I think it's only been used once before, in 71023 Kitty Pop, and that one has ears, so this one will no doubt be of interest to monofig assemblers.
The wings are a new element. It's made from a hard plastic and is printed on one side. A transparent pink version crops up in 43115 The Boombox.
I'm not going to pass judgement on the set as a whole, or the features it unlocks in the app because it's not been updated to recognise it yet. I won't comment on its value for money, either, because as we found out earlier in the year, the retail price of BeatBoxes is a joke and almost every retailer discounted them by 30% or more soon after release.
Suffice to say though that, like most Vidiyo minifigures, the one in this set is excellent and if you have an opportunity to acquire it at a decent price you will not be disappointed.
It's interesting to note that on the secondary market at BrickLink the minfigure accounts for almost all the value of BeatBoxes. The figures typically cost around £7-8 which is well above the average price for one. The BeatBits will set you back 30p or so each and the remainder of the specialist pieces, particularly the relatively useless transparent cover, minifig stand and back storage box, can be found for less than 10p each.
Thanks to LEGO for providing the set for review. All opinions expressed are my own.
---