Posted by

Huw

, 28 Jun 2021 12:00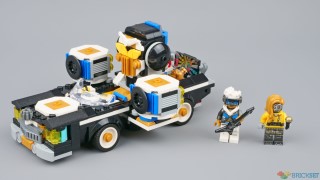 I think it's fair to say that Vidiyo has not been well-received by AFOLs, and if the deep discounts on the sets released just weeks ago are anything to go by, they are not selling well, either.
Before we confine the theme to the scrap heap to join other failed augmented reality efforts like Hidden Side we will continue to take a brief look at a few of the sets to see if there's anything of interest for the discerning LEGO fan, including 43112 Robo HipHop Car, one of the cheapest stages.
---
I sent a couple of the stages to someone with kids so that they could be reviewed with the help of children of the target age. Sadly, he has fallen seriously ill, so that will have to wait. I hope he makes a full and speedy recovery and that his kids have managed to have fun with them.
Using the set with the app
The app has been updated to recognise the stages, and they can be 'scanned' by pointing your phone's camera at them to load them into it. However, I will have to leave what happens when you've done so for you to discover for yourself because, try as I might, I just could not to work out how to use it, and I did not have the patience to persevere. No doubt an 8-year-old would have no problems at all, though…
So, this review will provide just a brief overview of the physical aspects of the set.
Minifigs
The highlights of Vidiyo sets are the extravagant and highly detailed minifigs but while the two included in this set are certainly that, they are not as appealing or attractive as many of the others primarily on account of their dull colours.
They are named Sing-Bot and Bass-Bot, so I think we can assume they are robots. Their metallic heads are a bit of a giveaway, too 🙂
Sing-Bot has warm gold hair, a colour which is being increasingly used for hairpieces nowadays. Bass-Bot's combined visor/hairpiece is a re-coloured version of that adorned by the HipHop robot earlier in the year.
Bass-Bot has a white hoodie piece round his neck which looks slightly odd given his shirt and jacket do not match.
14 BeatBits are included in the set of which the two below are unique.
The stage in this case is actually a car, albeit a totally impractical and illegal one to actually drive around in. The head at the back and speaker/light things on the side can be rotated, a feature that is common to all the stages So, you can choose to perform in front of a yellow/gold robot head and yellow speakers/lights or turn them round for a different blue/silver look.
The obverse of the head is also robotic. I like how the hub cap introduced in 75893 2018 Dodge Challenger SRT Demon and 1970 Dodge Charger R/T has been re-purposed as a speaker in this, and other Vidiyo sets.
When the bots have finished performing they can relax in the Jacuzzi at the back of the vehicle. On the other hand, that doesn't sound like a particularly good idea…
---
Verdict
I'm afraid this set doesn't do a lot for me. The minifigs are relatively unappealing, the colour scheme of the car is drab and not particularly attractive and, frankly, its design is ridiculous. It is therefore neither a good display model nor a source of useful parts and really the only reason to consider buying it is if you're aiming for a complete set of Vidiyo figures. However, I am sure kids will find more to like about it than I do!
I was expecting to have to complain about the price, too, but actually £24.99 / $29.99 is on a par with other c.400-piece sets with 2 minifigs released this year. Of course, you won't need to pay that for it because it, and the other stages, are already reduced by at least 25% at Amazon.co.uk and Smyths Toys.
---
Thanks to LEGO for providing the set for review. All opinions expressed are my own.