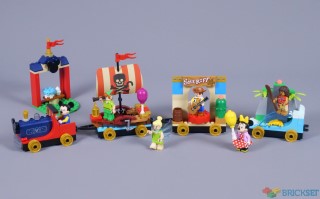 Disney was established in 1923 and accordingly celebrates its centenary in 2023, which provides the opportunity for some anniversary LEGO sets! 43212 Disney Celebration Train features several appealing minifigures, seeking to represent the studio's full history.
That is impossible, of course, but the six characters chosen look superb and provide suitable coverage, originating between 1928 and 2016. Those minifigures alone might be sufficiently exciting for some, although the 4+ train, recalling Disneyland floats, presents clear potential.
Summary
43212 Disney Celebration Train, 200 pieces.
£34.99 / $39.99 / €39.99 | 17.5p / 20.0c / 20.0c per piece.
Buy at LEGO.com »
The minifigures are the outstanding feature, but the accompanying train is fun too
Exceptional minifigure selection
Colourful and enjoyable train
Station feels superfluous
---
The set was provided for review by LEGO. All opinions expressed are those of the author.
Minifigures
Mickey Mouse was an essential inclusion, as Disney's mascot. While the famous character has recently appeared in varied attires, this minifigure is new and sports a colourful train conductor's uniform, with an attached pocket watch for timekeeping. I like the metallic silver stripes adorning his waistcoat, although Mickey's legs seem plain, as most of the other included minifigures have printed legs.
These include Minnie Mouse, who has appeared almost as consistently as Mickey. This version returns from 10778 Mickey, Minnie and Goofy's Fairground Fun, featuring the character's iconic red and white polka dot pattern. The fabric skirt looks lovely, but tends not to sit naturally unless Minnie's hands are down by her sides to keep the skirt in position.
Both minifigures include the same head component, although Minnie includes printed eyelashes and wears a yellow bow to differentiate this minifigure from the example in 10778 Mickey, Minnie and Goofy's Fairground Fun. This accessory corresponds with the colour of her balloon, three of which are provided in yellow, red and magenta.
Mickey and Minnie are original Disney creations, representing the company's origins. Peter Pan presumably represents the next stage in its development, as older characters inspired animated projects. This minifigure closely resembles the Collectable Minifigure released in 2016, featuring the same dual-moulded hat and hair, which looks superb. However, the torso has been updated and the legs are now undecorated.
Tinker Bell has only appeared once before in 71040 Disney Castle, so her return is particularly exciting! Additionally, this minifigure improves upon the previous iteration in some respects, now featuring more elaborate trans-light blue wings. The accurate hair component remains the same though, thankfully. Sadly, neither minifigure includes an alternative face, which were also missed from their prior depictions.
The final two minifigures represent modern Disney animation, including Woody from Pixar's Toy Story. The same minifigure appeared twice in 2019 and captures the necessary details from his onscreen garb, benefitting in particular from dual-moulded legs. However, I am slightly surprised by this re-use, given the reintroduction of longer limb elements for the Avatar theme, which were originally created for Woody in 2010.
Disney sets usually contain mini-dolls, including several focused on Moana. The new minifigure therefore provides an interesting alternative and I think the Polynesian princess translates nicely to minifigure form! The intricate patterns on her torso and legs look fantastic, displaying beautiful colour and perfectly reflecting the source material.
Moana's necklace is even printed around her neck, while the new double-sided head looks good as well. My only issue with this minifigure is the rubber hair piece. This was designed specifically for Moana and suits her mini-doll appearances, but seems somehow strange on a minifigure, in my opinion. However, I am delighted to see Moana portrayed in minifigure form, at last.
The Completed Model
Considering the need to celebrate multiple characters and periods in Disney's history, I think the train format is clever. The locomotive and three carriages are nicely designed for their respective minifigures, but share sufficient similarities to appear cohesive. Moreover, the vehicle measures 44cm in length, so is fairly substantial.
This is a 4+ set, so each section of the train is constructed on a standard 4×10 chassis. This has never been used for a train before and the protruding wheels do look peculiar, although I like the selected pearl gold colour. The shape of the locomotive on top is actually quite appealing, with a pair of 1x3x2 bricks with inside bows creating nice curves on either side.
Additionally, the red and dark blue colour combination is lovely, while the Mickey silhouette fixed on the boiler looks marvellous too. A printed 2×4 brick introduces further detail and there is room for a minifigure in the cab. The cowcatcher on the front seems disproportionately small, but I am otherwise pleased with the locomotive overall.
Peter Pan's carriage, loosely inspired by Captain Hook's vessel, is my favourite part of the entire train. The fabric sail is striking and I like the hull of the ship, despite its simplicity. Also, the model includes a lantern and an anchor, but still leaves ample space for minifigures on deck. This feels reminiscent of floats one could see in Disneyland parades, reflecting the celebratory focus.
The carriage designed for Woody shares a similar style, although lacks the detail of Peter Pan's float. The rotating stage and cactus are fun, but the wall behind seems rather bland, even with a printed sign. However, this font resembles that presented on stickers in 7594 Woody's Roundup! from 2010 and I like the golden badge hidden inside the barrel.
As expected, these two carriages are definitely not supposed to be viewed from the back. There are no unsightly colours, but detail is focused on the sides shown above. Although not ideal, the carriages are only four studs wide and space is severely restricted, so I think this design was an acceptable compromise.
Moana's carriage is incredibly colourful, featuring a dynamic wave. The trans-light blue canopy works well and the crab underneath is a great addition, again introducing some colour. Also, the rocky backdrop increases the height of this carriage, so complements those belonging to Woody and Peter Pan.
However, this float is unusual because the back conceals a secret accessory. A trans-green 1×1 round tile, representing the Heart of Te Fiti, is found inside a box and makes the fullest possible use of the available space. I was hoping the printed tile produced before would return, but that is evidently retired, in which case a trans-green tile suffices.
Officially, the accompanying structure is intended to be a station, but it could serve any purpose really. The bulky 2x8x6 frame seems rather bland when compared with the train, although it has only appeared once before in red. Once again, Mickey Mouse's famous silhouette decorates the roof and there are some cakes underneath, presumably to celebrate Disney's centenary.
Overall
4+ sets are obviously intended for a young audience, but those containing desirable minifigures often attract attention from older LEGO fans. 43212 Disney Celebration Train certainly warrants this attention and does include a wonderful selection of minifigures, four of which are completely new! Tinker Bell and Moana especially stand out, but all six are appealing.
Also, the train successfully unites these characters. The age recommendation inevitably restricts the level of complexity, but I find the train very charming on the whole. Unfortunately, 4+ sets are often expensive and the price of £34.99, $39.99 or €39.99 is higher than I would hope, albeit not to the egregious degree commonly found with comparable sets.