Posted by

CapnRex101

, 26 Sep 2021 15:00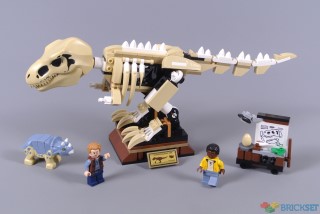 LEGO Jurassic World provides various exclusive dinosaurs and these are consistently appealing. Unfortunately, new dinosaurs are omitted from the current range. 76940 T. rex Dinosaur Fossil Exhibition appears enjoyable though, featuring an impressive skeleton.
The uniformity between the Tyrannosaurus rex skeleton and standard LEGO dinosaurs is excellent, maintaining almost identical dimensions and proportions. The construction techniques seem relatively simple, but are effective, while the accompanying baby Triceratops is welcome, exhibiting unique sand blue and tan colours.
Minifigures
Unsurprisingly, Owen Grady appears in almost every Jurassic World set, typically wearing his distinct sleeveless jacket. This minifigure accordingly remains identical to examples from 2018, but looks splendid. The double-sided head includes accurate facial hair with fitting expressions and Owen's torso displays extensive detail. Intricate printing continues on the hips and legs.
Darius, by contrast, incorporates two new components. This minifigure is shared with 76942 Baryonyx Dinosaur Boat Escape and wears a bright yellow jacket which looks attractive. The necklace also appears superb, displaying a dinosaur tooth. Darius' head features smiling and frightened expressions which are unique, further broadening the selection of different reddish brown heads.
75939 Dr. Wu's Lab: Baby Dinosaurs Breakout introduced an adorable infant Triceratops and another such dinosaur appears here. However, the original olive green and tan colour scheme has been replaced with sand blue and tan. I prefer the other colours, but appreciate the unique aesthetic on this occasion.
Moreover, the dual-moulding looks perfect and incorporates the distinct white beak and horns which characterise Triceratops. The textured frill also looks excellent, accompanied by printed sand blue splotches on the belly and legs, while this animal includes a matching 1×2 brick and 1×2 tile at the centre of its body. These can be removed to accommodate minifigures.
The Completed Model
Dinosaur fossils have appeared in previous LEGO sets, memorably including 21320 Dinosaur Fossils. This example is substantially simpler than its predecessor though, lacking the intricate bone structure and texture. Nevertheless, I think the model looks superb, integrating numerous important and recognisable features from actual Tyrannosaurus rex skeletons.
This skeleton measures 29cm in length, while the standard LEGO Tyrannosaurus rex reaches 28cm long. Such consistency between the two dinosaurs is outstanding and one can definitely imagine this skeleton fitting inside the living T. rex, despite their subtle differences in scale. The relative proportions between them also match reasonably well, although their feet vary.
Of course, the most notable consistency between them is the head. Brick-building the skeletal structure could have been successful, but the decoration here is excellent too, assuring ample differences between the fossil and its living equivalent. I love the printed fenestrae in particular, while the separate jaw component enables the same motion as the normal Tyrannosaurus rex.
The neck and arms are articulated too, while the ribs are secured using clips. More than three ribs would have been advantageous and there is comfortably room for another pair, although I understand the wish to maintain simplicity. The black elements underneath create an attractive impression of shadow, but the neighbouring black click hinges appear awkward.
Fortunately, the colour scheme is otherwise fairly uniform. Tan and white pieces are combined and they seem reasonable together, as though certain sections of the skeleton are fossil casts while gaps are filled using another material. Furthermore, some recognisable bones are visible here, including the distinctive pelvis and several tail vertebrae. Of course, many more vertebrae would constitute a genuine skeleton, but this permits sufficient articulation.
Two joints are also located on each leg, providing a satisfying range of motion. These colours appear inconsistent, although I consider this excusable behind the feet because real dinosaur skeletons require additional support and these commonly present contrasting colours. Despite its articulation, this model features an elegant base, correctly identifying the Tyrannosaurus rex as dwelling across North America between 68 and 66 million years ago.
The plaque includes a sticker and another is applied on this whiteboard, featuring a T.rex skull. The sketched styling appears realistic and various accessories surround the board, including a tooth, some vegetation and an egg. The reddish brown pointer and lamp also look splendid, but the simulated wheels beneath this cart seem somewhat disappointing.
Overall
76940 T. rex Dinosaur Fossil Exhibition represents an interesting departure from earlier LEGO Jurassic World sets. Despite comprising relatively simple construction techniques, this skeletal dinosaur includes great detail and the proportions correspond almost perfectly with the existing LEGO Tyrannosaurus rex. In fact, the basic structure complements minifigure skeletons, which are comparably simple.
The exclusive infant Triceratops is a welcome addition too, alongside Owen and Darius. I think the price of £27.99 or $29.99 feels slightly too expensive, although various larger elements are present. Maybe another minifigure would have ensured fair value. Nevertheless, I am delighted with this surprising model and would certainly recommend it to Jurassic World fans.