Posted by

Mr_Cross

, 11 Mar 2021 16:00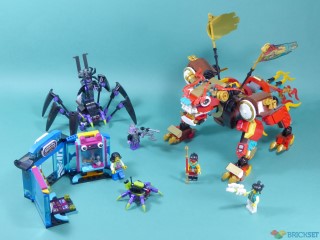 Clearly it was only a matter of time until LEGO delivered a set containing a boy possessed by a monkey god riding on the back of a mecha Lion while fighting off a spider-witch woman, her goon and a spider-bot, I hadn't called it, but now I see it, it makes perfect sense.
80021 Monkie Kid's Lion Guardian is another crazy but wonderful looking set in 2021's Monkie Kid line-up and one I have been looking forward to building. It's a mid range set and looks to feature things which should promote imaginative play!
The setting for the action that will be taking place is a video game arcade. We must do a dance routine, defeat a spider drone robot, collect a statue, beat an end of level spider baddie dude and then finally destroy the "big boss" Spider Queen to win this game… Player One are you ready to play? Ok, pass me the VR headset, I'm going in!
---
Inside the box
Here are numbered bags – an odd irrational preference of mine is for the 'big number' bags as opposed to the 'white striped' ones, and I'm only getting two of those here!
The instructions, stickers and two metallised plastic sheets with pop-out elements are bagged together to keep it all nice and flat.
There are two separate instructions, neatly dividing the things that are to be built.
A pair of flags for the Lion Guardian and a cape for the Spider Queen.
The sticker sheet is on the larger size.
---
Minifigures
Lu looks to be an arcade manager à la Mr. Litwak from Wreck it Ralph. I assume there must be more to her than meets the eye, but what that is, remains a mystery to me. It's slightly irrelevant though because I think she's an incidental character, someone to have in a perilous situation, perhaps. I like the character, the new torso is bold and interesting and a dual expression head always feels like it will be useful for other minifigures.
Huntsman is one of a number of spider-henchmen in this wave of sets, and he looks like one mean demon. New prints, new hairpiece and a recolour to the collar-rough piece all go together to make this a really nice figure. To be absolutely honest, I'm loving the whole group of spider-baddies.
The Queen is pretty special too.
This is a reworked version of Spider Queen, using the same headwear piece as seen in 80014… this version of the Spider Queen looks the same as the one also available in 80022 Spider Queen's Arachnoid Base, if you haven't already seen benbacardi's thorough review, please check it out. She also comes in 80023, a set I covet highly and which was very recently reviewed in depth by Huw.
It's a dual expression face and the alternate face is, frankly, quite scary. I find myself liking her cape more than I did upon popping it out of the carrier sheet because it won't fray and although it may crease or eventually crack, it should be fairly hard wearing. I only have a few other plastic capes, none of which I actually put on their corresponding minifig (I left them flat!). I can only therefore compare this cape to plastic dragon wings from 70653 Firstbourne that my son has played with extensively over a couple of years and are still holding up incredibly well. I have to say, I think I actually prefer Spider Queen's original incarnation.
Monkie Kid hasn't got any exclusive parts, he is a variant made from this year's attire and a dual expression head from last year's sets. I think a slight variation of this plain clothes Mei was available in 80011 Red Son's inferno truck, but using a different face, this head is really cool with an AR monocle pattern (also available before) I don't mind this mix and match method of making variant figures because none are wholly unique and if you have just two sets, you should have more possibilities with the character than if they were simply identical across the range.
---
The Build
Book 1, Bag one
The first thing to build is the video game arcade, intriguingly named 'Anti Gravity', I assume there is a backstory to this as the depicted arcade games appear to have little relevance to space or anti-gravity… showing my age here but a table-top representation of Space Invaders, Asteroids or Galaga would have made me very happy. Instead, there is a dancing – coordination game and a classic grab claw.
I'm not a fan of stickers and clear stickers only increase my gnashing of teeth. I am reasonably adept at getting them in place, I'm careful to keep the pieces clean and clear of dust, but no matter how careful I am, almost without fail, there will be an eyelash or speck of dust that finds its way under the sticker. Here, a selection of six not insignificantly sized stickers need to be applied to 1x2x5 bricks.
The sheet (as shown above) filled me with dread. This was to be a pretty major review for me and I didn't want the stickers looking all gammy in my photos! So I hoovered the table, cleaned everything within sight and wiped down my tweezers with lighter fluid to remove any excess gum from previous sticker applications. I was tempted to acquire and don a hazmat suit and work within a hermetically sealed box (I'm only just joking) in order to ensure clean smooth sticker application!
Luckily the extra care worked, and I had to only readjust one sticker, and that was mostly due to my own cack-handed fumbling!
As much as I dislike them, it was worth the extra care because these stickers add so much to the look of the arcade.
The arcade isn't just a side build either, it is fun too. LEGO have created another 'working' game (see Ninjago City Gardens). This time it's a classic grab arm game. Although I have to say this is a lot easier to win the prize than my experience of the real life counterparts. In this claw game the prize is an 'Oscar', no three-eyed aliens, Space-rangers or cowboy-dolls here!
The other side of the arcade depicts a Dance based game demanding of rhythm and coordination. These fill me with dread, mostly it's the music associated with them that is not normally my thang! I can appreciate how well this is done though.
The whole arcade hinges on either side of the entrance and this enables it to pack into a neat little cuboid package.
This certainly reflects my experience of dark and cramped video arcades.
Bag two
I really hate being pedantic, but I feel that if I don't point this out again, (as I did with my review of 80018 Cloud Bike) someone else will… argh! Spiders have eight legs!
The thing is, it really, really did not bother either of my children and they liked both this spider droid and Spider Queen's 'Battle Rig' transport (and the other spider droid in 80018 too for that matter).
The new right-angled clip comes in purple and a large quantity of them rained out of the bag!
The baddie's vehicle here was another fun build, could it have included another pair of legs? Probably, but that might have been opening a can of worms.
The thing I'm surprised I'm not seeing in all this, is any weaponised webs, whether as net launchers or as the webs we have seen in more recent spider-man sets, perhaps green would have worked? A recoloured element would have come at the expense of something else, so I can see why it might not have felt important.
Book 2, Bag three
From bag three onwards, most of the building was actually done by my son (9) and was punctuated with photography by me at the 'inbuilt bag-end stopping points'.
Here's the Lion's head – and with its cute little nose-y it's enough to 'teal your heart. Although those eyes have been following me around a little bit. This was good, I could see my son concentrating as he saw and followed some of the little techniques used to create the forms of the head.
Bag four
The construction that goes into the torso of the Lion before adding the head subassembly from bag three is mostly straight forward with a little sideways construction to produce the neck ring.
The mechanism is really neat – the lower jaw has been left loose until we attach the sliding actuator switch into a slot in the beast's back.
There's some familiar wheel hubs that have been used very effectively to create the Lion's mane. This has come together very quickly, and really does have a lot of character.
Bag five
Legs
I took this picture, intending to do a stupid legless joke or pun, I think I'll have to forfeit that because the guardian won't take it Lion down.
I will go out on a limb here and say this is a really great build though!
What?
Bag six
The final bag is basically a few adornments, tail, flags and weapons – I had a suspicion that the things on the side were drums, but it took a quick check on the product page on LEGO.com to ascertain that. Each drum contains one projectile launcher and one arrow that can neatly be activated whilst holding the Lion. I was just left wondering "Why Drums?" but in a set this delightfully crazy, I figured "Okay!"
---
Background and other thoughts
Chinese Lion Guardians also known as Shi or Fu Dogs are usually highly stylised stone or bronze ornaments. They are most often found in pairs at the entrances to homes, protecting the buildings from malevolent forces. The pair are usually a male and a female with a cub.
This Lion Guardian is also reminiscent of the costume worn in a Traditional Lion Dance (see also 80104 Lion Dance and perhaps 80106 The Story of Nian too) and would answer the questions I had regarding the drums!
My son pointed out some similarities to the Mino creature (as found in 71719 from last year's Ninjago Master of the Mountain subtheme). He had just bought and built the Rhino inspired beast and he was adamant that the Lion guardian was very much like it in size, construction and furthermore in the remarkably similar action feature.
---
Conclusion
I, we actually, love this set. It was great fun building and photographing this together. Furthermore, it was delightful then watching my son and daughter throw themselves into imaginative play. There is plenty here together with the 80018 Cloud Bike set to occupy two children for a considerable time. I just couldn't shake the feeling that this set was a tiny bit expensive.
774 parts including five minifigures for £59.99.
So, I looked at the PPP, which is 7.8p and that is, on paper, undeniably good value. Especially considering some of the newer parts on offer in the set.
I also ran a query of the database limiting the parts to what I felt was a fair margin either side of 774. What struck me was that compared to sets in the last couple of years that didn't have a license attached this wasn't just good value, it's incredible. Even in these days of being shut in, I'd rather have this than a family caravan holiday, well a LEGO one at least.
I think part of the misconception I had regarding value was based on the feeling that all the Monkie Kid sets are expensive, owing to their remaining exclusive status at [email protected] However, as discussed, there is a lot here, and I think comparatively for the rrp I can recommend this to you.
It looks really good, it follows the established colour ways of previous Monkie Kid's methods of transport. The theme and subject feels authentic and in context to the source material.
One down side to liking a LEGO set a lot is that I invariably then want another of that same set. Having discovered that Lion Guardians should come in twos, I feel like I want another one of these (to mod perhaps and add a cub?) as well. So that's three! Building a pair in white also appeals if it's possible without substituting too many parts… what am I thinking? Where's the Lion guardian protecting my wallet from the money syphoning LEGO spirits!?
Obviously there's no waiting for a discount, so the best I can suggest is getting this when there is a desirable GWP, it's what I will be doing, probably sooner than my unprotected wallet would like me to.
---
Thanks to LEGO for providing the set for review. All opinions expressed are my own.