Posted by

Huw

, 07 Mar 2021 16:00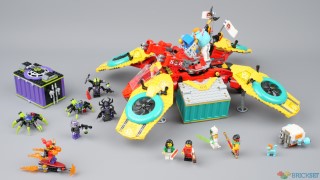 Monkie Kid and his team have a plethora of vehicles at their disposal: bikes, jets, container ships and now this 'dronecopter' which is neither an autonomous or remote-controlled drone nor a helicopter.
Nevertheless, the 1,462-piece 80023 Monkie Kid's Team Dronecopter, the second largest of this year's Monkie Kid sets, looks to be an interesting and colourful set particularly given it includes no fewer than ten minifigures.
---
Box contents
Parts are separated into 14 numbered bags, each containing roughly 100 elements. A lot of sets are packed like this now, and I like it. It breaks down construction into bite-sized chunks that can be completed in 15 minutes or so and undertaken whenever you find the time.
The instructions are split across two manuals, the first deals with the ancillary builds, the second the dronecopter so should you wish to share building duties you can do so easily.
For the size of the set the sticker sheet is fairly modest. The flexible black plastic sheet contains a cape for the spider queen minifigure.
---
Minifigs
The set includes a whopping ten minifigures, if we include the cat and big-fig: protagonists, antagonists and a random civilian.
Monkie Kid and team
The kid is accompanied by four of his team, one of whom is not shown in this group photo.
Sandy is a tough but peace-loving member of the team. The figure and his weapon are the same as those that appeared in last year's 80013 Monkie Kid's Team Secret HQ.
Mo appears in two of this year's sets and in this one he has a jet-powered cat carrier to travel around in.
Mei has a new outfit this year and the same version can also be found in 80020 White Dragon Horse Jet. However, both her helmet and hair are provided in this set.
This version of Monkie Kid is also new this year, but apart from differing facial expressions, it's the same in the majority of them.
Civilians
Mr. Tang is in MK's team, and this is his only appearance in a Monkie Kid set so far.
Fei appears to be a random civilian, included so that the kid and his gang can rescue her from the Spider Queen's evil clutches. I guess it's good that such figures are included since they provide variety and often utilise generic torsos that have application elsewhere.
Mr. Tang's book has a printed cover which I'm told reads 'Journey to the West' and a printed tile inside.
Antagonists
Not only does MK have to deal with the Spider Queen and her motley crew, but Red Son as well!
The Spider Queen appeared in one of last year's sets but this year she's attired in a new frock and a plastic cape with a web pattern on it. I think she looks both formidable and awesome!
She's accompanied by two henchmen, Syntax, who also appears in 80022 Spider Queen's Arachnoid Base, and Huntsman who's also in 80020 White Dragon Horse Jet.
Syntax has six arms and two legs, so I guess he qualifies as an arachnid. I'm not sure what use he has for a fire extinguisher. The combined hair/visor piece covers his eyes but provides 6 more.
Also escorting the queen are two insects of differing designs. Sorry, I can't bring myself to call them spiders given the shortage of legs.
If that's not enough baddies, Red Son, who's the offspring of the Demon Bull King and Princess Iron Fan, makes an appearance in this set too. He's cropped up in a few others both this year and last, but this version includes unique torso, leg and head prints, and he's wearing a 'half-skirt'
Some sort of jet-pack is attached to his back which presumably gives him the ability to fly.
However, he also has a similarly propelled hoverboard to provide the same function.
He's a cool figure with an equally cool accessory, but seems a bit unnecessary given there are plenty of other antagonists in the set. I don't know the story or scene from the cartoon that the set replicates: perhaps he's an important part of it.
---
Ancillary builds
Before tackling the dronecopter three containers are constructed, two of which can be attached to it and another which provides a means for the Spider Queen to shoot it out of the sky.
From the outside they look plain and boring, but they are actually one of the highlights of the set.
The one on the right is Mei's container which folds out to reveal a den, complete with television, arcade game machine, some sort of control panel in the centre, and an armchair.
They way it folds out is exceedingly clever and well executed.
The second container is Mr. Tang's apartment. It has a hinged roof and opening it reveals a desk and chair with a bookcase behind it, and stairs leading to bunk beds above. The bets are constructed upside-down and attached to what is the ceiling of the container. Again, it's very clever.
Not to be outdone, the Spider Queen has her own container, but this one is used for nefarious purposes.
It's hinged at the sides and opening it reveals a giant weapon, complete with two flick-fire missile launchers. Notice how the 6×6 dish fits perfectly into the hole in the roof.
The flick-fire missiles are operated by pressing down on the lime green beams at the back.
---
The dronecopter
The dronecopter is built in four stages, beginning with the cockpit which, for a pleasant change, includes a plain transparent canopy which I believe has only appeared in this colour once before.
The drone's chassis makes use of A-plates to join the arms at an angle and there's a handle at the back to hold the craft while 'swooshing'.
In common with real drones this one has four flimsy legs to facilitate vertical take off and landing which don't look great, but I concede are prototypical and practical.
Four identical motor housings are added to the arms which look more substantial than they actually are, being only a couple of plates thick. The propellers do not rotate other than by hand.
A well-armed gun turret, which houses a pair of flick-fire shooters, is mounted on the turntable of the chassis and is designed for Sandy to stand upon. A pair of speakers are mounted on the flag poles behind him: presumably he likes to bang out some tunes while shooting down his foes.
An impressive array of controls are laid out at the front, including two control levers that are appropriately sized for Sandy's hands.
The flick-fire missiles are operated using a trigger in the handle. When it's squeezed the 3l white beam under the turntable pushes upwards which in turn pushes an axle under the arrows upwards which causes them to shoot.
The cockpit is connected onto the chassis with ball joints and the two containers clip onto the sides to complete the 'copter.
The handle, which looks a bit like a tail, enables the craft to be picked up and swooshed. When it's fully loaded with both containers it's actually quite heavy, so you soon tire of doing so. There's also a worrying amount of flex in the handle and its mounting points, although because it's constructed using Technic parts bound together with pins it doesn't actually come apart.
There's a small gear wheel at the top of the handle which can be reached by your thumb and turning it rotates the gun turret thus enabling you to aim the weapons before discharging them with the trigger.
---
Verdict
A huge drone-like flying machine is certainly an interesting concept that will resonate with youngsters, but I don't think it's an idea that'll take off, not with such puny rotors and heavy payload!
The craft itself is big, impressive and attractive in its red, yellow and teal livery, and quite fun to swoosh around. However, it looks better from some angles than others, the optimum one being that shown on the front of the box, unsurprisingly: the legs and handle can't be seen and the thinness of the propeller housings is not apparent.
The minifigure selection is outstanding and all the main characters from season two of the cartoon appear to be in it. There are plenty of foes for the team to battle, and kids will be able to have fun acting out a variety of scenarios with what's in the box.
The highlight of the set for me, however, are the containers: all three are cleverly designed and full of interesting details.
Overall, it's an interesting addition to Monkie Kid's arsenal and in my opinion one of the better sets in this year's selection.
Price-wise, it's £120 in the UK, which for 1462 pieces and 10 minifigures seems quite reasonable. In the USA it's $150 so for a change LEGO has priced it using an exchange rate that's closer to reality than usual, which does however make it seem slightly over-priced there.
---
Thanks to LEGO for providing the set for review. All opinions expressed are my own.