Posted by

Huw

, 24 Jul 2021 12:00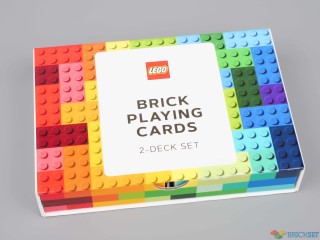 LEGO licensee Chronicle has been producing high quality books, jigsaw puzzles, notebooks and other LEGO-themed products for a couple of years now.
Its latest product is Brick Playing Cards, which contains two decks featuring colourful backs and minifigures on the royal cards.
---
The two decks are packaged in a thick glossy slip case, ideal for transportation.
The cards are stiff and frictionless and are easy to handle. The backs are decorated with a brick pattern which, perhaps unfortunately, is not diagonally symmetrical, so cards inserted into the deck the wrong way round will be identifiable.
The fronts are coloured to match the backs. The jack, queen, king and two jokers feature minifigure representations of the characters.
The strict adherence to matching colours has had the unfortunate effect of making the red suits light blue and the black ones dark blue on the blue deck, and light/dark red on the red deck. Of course this is not going to affect gameplay, but it may be confusing for youngsters, particularly if the instructions for the game they are playing refer to red and black suits.
Overall, then, they are a high-quality premium product, and perfect for introducing young children to card games.
They are available at Amazon.co.uk (£13.50) and Amazon.com ($16) so are certainly not cheap, and whether it's worth paying more for the LEGO theming than buying regular decks is for you to decide.
---
Thanks to Chronicle for sending me the product to review. All opinions expressed are my own.