Posted by Huw, 24 Feb 2023 14:00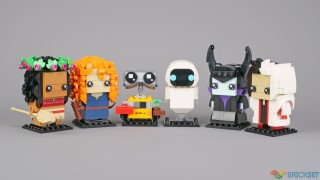 LEGO is going all-out on Disney character BrickHeadz in the year of the film studio's 100th anniversary, and next month three double-packs will be released, featuring a variety of characters from animated and live-action films.
---
40619 EVE & WALL-E
Transforming characters into BrickHeadz is not always successful, but WALL-E is well suited to the format given that he has a rectangular body, and this version of him looks pretty much like he would if you were to build him at this scale anyway.
He's equipped with a toolbox and carries the precious plant that he found while out on his rounds, and his neck is articulated, allowing him to gaze up into the stars.
Eve has a featureless conical body and a squashed-spherical head, which are not best suited to the BrickHeadz treatment, but nevertheless this figure is recognisable, and one of the few that does not have the distinctive print on its eyes.
---
40620 Cruella & Maleficent
Live-action versions of the 101 Dalmatians films usually show Cruella de Vil in black or red coats or dresses, but LEGO has taken inspiration from the earlier animated version, in which she's attired in an opulent red-lined cream-coloured fur coat over a black dress.
Her black and white hair gives the figure interest, although the white side blends in with the coat somewhat.
Maleficent is the evil fairy in Sleeping Beauty and the spin-off films that bear her name. The character is tall and slender, but of course looks short and stubby here.
Her spring light green skin and horns/headpiece help her stand out from the BrickHeadz crowd.
---
40621 Moana & Merida
I've saved the best until last.
The reason for that is simple, and I state it in every review of a good figure: BrickHeadz are really only successful and appealing when they have an interesting, distinctive, or 'big' hair-style, and Merida from Brave certainly does!
Her voluminous curly red hair has been crafted using a variety of curved plates and slopes, and it contrasts pleasingly with her dark blue dress. She's equipped with a bow and a quiver attached to the belt around her waist.
Moana from the eponymous animation also has lavish hair which is topped off with a flower garland, making the figure even more attractive and colourful.
A printed brick provides the pattern of her tapas top, 1×2 tooth bricks finish off the bottom of her shredded pandanus skirt, and overall it's a very good-looking figure.
---
There's a BrickHeadz for every Disney fan here, although they are something of a mixed bag. Some characters are better suited to the blocky treatment than others and that's certainly evident here.
WALL-E and EVE are OK for what they are, but the latter is not really suited to be turned into a BrickHeadz.
The renditions of Cruella and Maleficent are perfectly fine, but they are not interesting enough characters to make truly great BrickHeadz.
Moana and Merida on the other hand have great hair, colourful dresses and interesting accessories, everything you could want, and as result both are among the best and most appealing BrickHeadz ever made.
They'll all be available at LEGO.com from March 1st. 40619 EVE & WALL-E will be $14.99, £13.49, €14.99, while 40620 Cruella & Maleficent and 40621 Moana & Merida will cost $19.99, £17.99, €19.99.
---
Thanks to LEGO for providing the sets for review. All opinions are my own.