Posted by

Huw

, 26 Apr 2021 14:00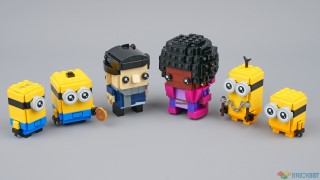 Like many recent big-budget films, Minions: The RIse of Gru has had its release date shifted several times as a result of the pandemic. It was originally scheduled to be premiered in July 2020, but it's just been announced that it won't hit the big screen now until July 2022.
Nevertheless, LEGO is pushing ahead with the release of five sets based on the film, including two BrickHeadz triple-packs, 40420 Gru, Stuart and Otto and 40421 Belle Bottom, Bob and Kevin, all of which were originally planned to be launched last year.
---
40420

Gru, Stuart and Otto

The film tells the story of a 12-year-old Gru's desire to become the world's greatest supervillain. In common with the other films in the franchise, he's aided and abetted by his bright yellow minions.

Consequently, the Gru in this set may not be immediately recognisable if you've not watched the trailer: for one thing the young version of him has hair. He wears a stripey grey scarf and button-up jacket, which have been reproduced as well as can be expected here.

He has a long pointy nose even at that age, and the single cheese slope used on the model does not really do it justice. Perhaps a 1×1 brick with the cheese slope on the end would have looked better. This is the first BrickHeadz of a human character to include such a facial appendage.

He's accompanied by two of his most loyal minions. Otto, right, is stouter than most, so he's been constructed as a 4×4 cube whereas Stuart on the left is 3×3. They are attired in their usual blue dungarees although because the figures don't have arms as such, they look more like plain trousers.

The 2×2 round tiles printed with the normal BrickHeadz eye print look excellent as their goggles. It's a shame that they don't also have printed mouths because they contribute a lot to a Minion's character. No BrickHeadz have them, though, so their omission is understandable.

Otto is carrying a round tile printed with a medallion pattern, which also crops up in 75550 Minions Kung Fu Battle. Stuart has a tile printed with hair stands on top of his head which can't be seen in this picture but is visible in the group shot below.

The figures do come with the usual 6×6 black plate stands, but I have omitted them from the photos as I think they look better without them.
---
40421

Belle Bottom, Bob and Kevin

Belle Bottom, voiced by Taraji Penda Henson who played Katherine Johnson in Hidden Figures, is the leader of the Vicious 6 supervillain group, which the young Gru wishes to join.

She has a huge afro hair-do and is wearing a purple dress with pink fur collar and sleeves, and thick gold chains around her waist, all of which have been replicated faithfully in the model.

As is always the case, "the bigger the hair, the better the BrickHeadz" !

She is accompanied by Kevin, right, and Bob, who are attired in bright-orange martial arts gear, a homage to Bruce Lee and The Bride in Kill Bill.

Kevin is brandishing nunchakus which in itself interesting because until quite recently they were banned from appearing in children's TV shows and toys in the UK, and the martial-arts weapons are still illegal in many countries.

They are one of the reasons why kids in the UK had to watch Teenage Mutant Hero Turtles instead of Teenage Mutant Ninja Turtles in the 1990s: British censors objected to Michaelangelo's weapon of choice appearing on the screen. It's an interesting story which is well documented here.

So, to have them appear in this, and probably many Ninjago sets with which I am not familiar, illustrates how censorship rules have changed over the years.

The 1×1 tile on their arms is printed and will no doubt come in handy for micro-scale builds.
---
Verdict
The two sets are a delightful addition to the BrickHeadz series that are sure to please Minions and BrickHeadz fans alike. I particularly like Belle Bottom — especially her afro — and it's a shame that she'll remain unfamiliar to most people until next year. I suspect by the time the film is finally screened these sets will have sold out long ago, so grab them now and perhaps put them by to enjoy when you've watched it.
They are available now at LEGO.com for $19.99, £17.99 and €19.99.
---
Thanks to LEGO for providing the sets for review. All opinions expressed are my own.