Posted by Huw, 17 Jun 2021 14:00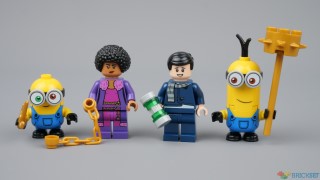 While we continue to wait for Minions: The rise of Gru to hit the big screen, LEGO is releasing another movie tie-in set, 40511 Kung Fu Training, that might just be the only Minons set you need to buy, because it contains most of the main characters from the film.
---
It packaged in a blister-pack in the shape of a minifig which is similar to other 'battle packs' released recently.
It contains four minifigs: Gru, Belle Bottom, Bob and Kevin, plus an assortment of martial arts weapons, and a martial arts dummy.
Bob and Kevin are attired in their classic blue dungarees, which is far more preferable to the orange that they are kitted out in in some of the other sets.
I'd not encountered minion minifigs before so if you've not either, this is how they go together.
Belle Bottom is the main antagonist in the film, the leader of the Vicious 6 supervillain group, which the young Gru wishes to join, so it's perhaps surprising that she is unique to this set.
Her colourful pink and purple clothing, complete with gold chain, have been faithfully reproduced here.
Gru too looks like he does in the film, with scarf and buttoned up jacket, but given he's only a kid in it, surely it would have been more appropriate to have used shorter legs.
Both have alternate expressions and printing on their backs.
The martial arts dummy provides a modicum of building, but it's largely superfluous: people will be buying the set solely for the minifigs.
Overall, it provides the best and least expensive way to acquire a couple of the yellow underlings in their classic attire, plus the two other main characters in the film.
I believe it will be released on July 1st and assuming a pricing similar to other sets of this type, will cost $14.99, £13.49, 14.99€.
Here are the figures in a Wicked Brick 4×1 wall-mounted minifigure display case that we reviewed earlier, with front cover removed to avoid reflections.
---
Thanks to LEGO for providing the set for review. All opinions expressed are my own.