Posted by

Huw

, 16 Apr 2021 12:00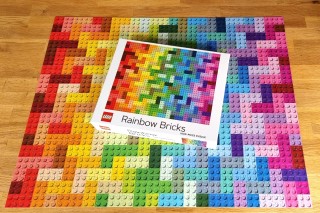 Jigsaws were a popular pastime during last year's lockdowns so the release of Chronicle Books' first LEGO-themed 1000-piece puzzles during the summer was very timely.
The company has now produced five such puzzles, the latest being Rainbow Bricks, which depicts a colourful collage of LEGO pieces.
My wife is a keen jigsaw puzzler, so I set her to work on this one…
---
The relatively small box contains the pieces in a reusable zip-lock bag and a sheet showing the design of the puzzle, which comes in handy if more than one person is working on it at once.
I believe it's traditional to construct the edge first and sort the pieces somehow before embarking in the interior. In this case it's fairly easy to do so by colour.
It's manufactured from 2mm card stock which is the same as that used in most other puzzles we have. Many reviewers on Amazon have complained about the quality of the pieces in Chronicle's puzzles and, while they might not be up there with the likes of Ravensburger, they are perfectly acceptable. In this one they were all cut cleanly and none were bent.
The overall size is 63x50cm (3150 sq. cm) which is smaller than most of the 1000-piece puzzles in our collection, which average about 3330 sq. cm, so the pieces are slightly smaller as a result.
Due to the way in which the parts can be pre-sorted by colour it was relatively easy to complete, and took my wife less time than is usually a case for a puzzle of this size.
Jigsaw puzzles provide a pleasant way to pass the time and if you're looking for something constructive to do that doesn't involve actual LEGO pieces, these are ideal.
This particular one costs £13.42 at Amazon.co.uk and $17.95 at Amazon.com which seems on a par with other 1000-piece puzzles. Those released last year are slightly cheaper.
---
Thanks to Chronicle for sending the puzzle for review and my wife for doing it. All opinions expressed are my own.