Posted by

CapnRex101

, 12 Mar 2021 17:20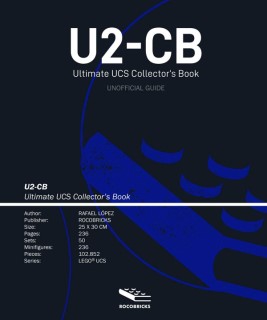 The marvellous Ultimate Collector Series range was introduced during 2000, comprising numerous superb models which display tremendous detail. Their diverse branding has proven periodically controversial though and tracing the series can therefore prove challenging.
Rafael López has undertaken this challenge, authoring U2-CB – Ultimate UCS Collector's Book which discusses the Ultimate Collector Series and details distinguishing such products from others.
Read our review and an interview with the author after the break…
Before discussing any actual content, the presentation of the cover should be acknowledged. This design takes obvious inspiration from Ultimate Collector Series plaques and looks lovely, surpassing the majority of LEGO books in my opinion. The cover material feels reminiscent of the various No Starch Press works which have been produced recently.
The book is divided into several sections, beginning with discussion of the Ultimate Collector Series concept and its development. I found this section both comprehensive and interesting, summarising the different factors which distinguish UCS products and the regular changes to their branding. The references to marketing language is particularly intriguing.
Having established the Ultimate Collector Series brand, the book describes the models which are frequently considered within this range. This information is available elsewhere, although I greatly appreciate the presentation and the continued analysis of how products were marketed, especially surrounding earlier sets.
However, the factor which really elevates U2-CB is the outstanding photography. High-quality photos of older Ultimate Collector Series models are relatively rare and other books, including those published by DK, seldom introduce new images. This book contains excellent images of every UCS model and several beyond, produced by Rafael López and José Carreño.
Rafael also comments upon products which relate to Ultimate Collector Series sets, including the new selection of large-scale character models. These are described using the term 'LUCS' which appropriately stands for 'Like Ultimate Collector Series'. I do agree with their inclusion in the book and their classification because such models share notable similarities with UCS sets.
Moreover, the coverage extends beyond Star Wars to encompass other themes which contain products resembling UCS sets. 76023 The Tumbler, 76042 The SHIELD Helicarrier and 75936 Jurassic Park: T. rex Rampage are therefore included, among other models. Unfortunately, this does omit the newest such products, including 76161 1989 Batwing, but that is an unavoidable limitation of any reference book.
Ultimately, I am impressed with U2-CB – Ultimate UCS Collector's Book, especially given the fantastic photography. The arrangement of different items seems logical and I appreciate that Rafael has acknowledged each product which even enters the conversation surrounding UCS, rather than restricting his focus to the undisputed examples.
My only hesitation concerning this book relates to its price, costing £50.27, $68.76 or €48.10 from Amazon, dependent on your location. This does seem expensive, although the quality is great and I think this would make an enjoyable gift for any seasoned Ultimate Collector Series fan.
You can find out more on U2-CB.com and purchase the book at Amazon.co.uk, Amazon.com and Amazon.es.
This book was provided for review by the author but the review represents an expression of my own opinions.
---
Brickset: Tell us about yourself and your experience with LEGO.
Rafael: I am passionate about the LEGO universe, especially the LEGO Star Wars UCS (Ultimate Collector Series) sets, which I have been collecting since 2004. My love for anything connected to the little plastic bricks has taken me to Billund on several occasions, where I was able to visit Legoland and LEGO House. In 2015, I took part in the LEGO Inside Tour. In 2017, I found about the LEGO Serious Play world, and I was trained as a facilitator with The Association of Master Trainers in the LEGO SERIOUS PLAY Method.
What inspired you to create U2-CB – Ultimate UCS Collector's Book?
Rafael: A few years ago, on the occasion of a relocation of my collection of assembled LEGO sets, I considered cataloguing it and documenting some features that I thought could be useful to me as a collector in managing it. I thought of it as an art catalogue, but private, for personal use.
I drew up a draft that was polished to what in the end are the technical sheets of the book. But the entire creative process matured as I was documenting, assembling (some sets weren't on the market when I started this 'journey') and photographing the sets over the course of more than two years. Under normal circumstances it shouldn't have taken me so long, but the location of the sets (at my hometown, over 600 km away from where I currently live) prevented me from doing it any faster. On the other hand, this enabled me to make decisions with a time enriched perspective, as the content evolved.
The book idea emerged as such at the end of that process. It was a consequence, not something sought from the beginning, it was not the initial goal.
How did you define the UCS range for this book?
Rafael: This book is not intended to establish a list of UCS sets in a revisionist way towards the past (establishing a criteria and checking which sets fit), but rather to serve as a reference guide through a historical journey from its origins through to the latest LEGO Star Wars UCS sets (at least those that the fan community has recognised as such at some point).
I use and apply the UCS concept from a collector's point of view rather than exclusively a marketing label. In fact, TLG has been criticised at times for labelling sets as UCS 'against' collectors' criteria (75098 Assault on Hoth, for example).
The UCS label surpassed its initial commercial significance to become a LEGO collector's universal concept beyond the marketing label (although it has to be considered, of course).
In addition, sets of other LEGO thematic lines that incorporated the UCS concept are included, as well as those that, without being considered as such, "look like UCS" (LUCS).
Do you think LEGO should officially clarify which sets belong to the Ultimate Collector Series and which do not?
Rafael: In my opinion, that would have a "revisionist effect" and I don't see anything good in that for either the brand or the fans. It would provoke even more speculative movements in the market for the sets on that list and would create great disappointment for fans and collectors who owned the ones that were left off that list.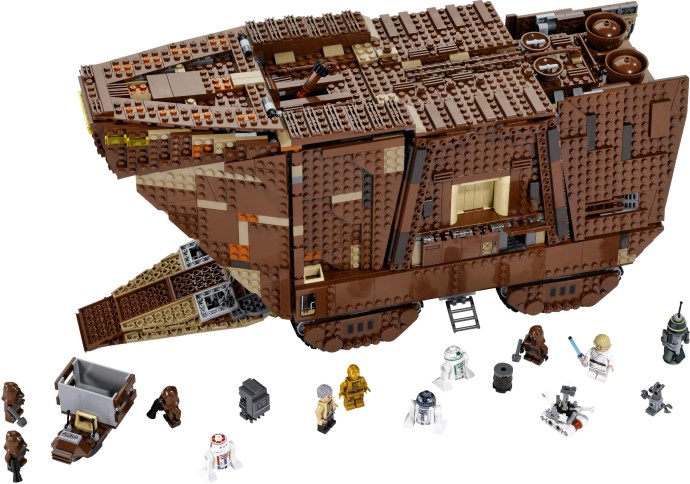 It would have a disruptive consequence on a concept that is deeply ingrained in LEGO collectors. I think that when TLG wants to make a clear statement on this issue, it does so and there are several recent examples (75059 Sandcrawler, the Master Builder Series, 75244 Tantive IV, etc.) but never in a revisionist sense, rather from now on…
I think TLG knows that, as I explain in the book, nowadays UCS is a concept in the fan community and (not only) a marketing label: both have to coexist.
What are some of your favourite UCS sets?
Rafael: 10026 Special Edition Naboo Starfighter, 10143 Death Star II and 75192 Millennium Falcon.
What would you most like to see in future UCS sets?
Rafael: My vote in last year's poll was for the TIE Bomber! 🙂
Many thanks for speaking with us.