Posted by

Huw

, 02 Jan 2022 10:05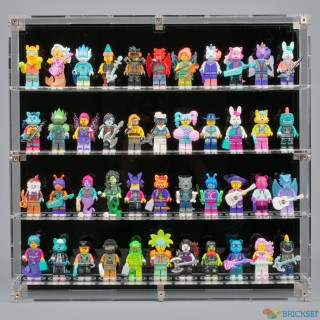 Last summer I reviewed one of Wicked Bricks' wall mounted display cases which had just been introduced at the time.
Since that review the range has been expanded to encompass a huge range of different sizes that can accommodate anything from 4 to 150 figures.
I recently managed to acquire a set of Vidiyo series 2 bandmates which meant I had a near-complete collection of figures from the failed musical theme, so I thought I'd display them in the largest case the company sent me to review, which is 11-wide and 4-high.
I think they look spectacular in it…
This particular one is 35x33cm and 7cm deep. The shelves are 7cm apart and figures are spaced 3cm apart, so it will accommodate the vast majority of minifigures.
The sides and front are held together with small metal cubes and screws, which does make it slightly awkward to access the figures, although you could leave most of the screws off the front to make it a bit easier.
The back is manufactured from three sheets of black Perspex which has holes in two of the sheets to facilitate hanging from screws on the wall.
The clear Perspex shelves are fitted with genuine LEGO 1×1 round plates on which the minifigures are mounted securely.
The 44 Vidiyo figures look particularly good in it: their bright, vivid colours really stand out against the black background.
The cases are available in any width from 4 to 25, and in any height from 1 to 6 shelves, so there will be a case available to fit exactly the number of figures you want to display.
Price wise, they start at £12.99 for a 4-wide by 1-high, right up to £158.99 for a 25×6, which accommodates 150 figures. The 11×4 one shown costs £52.99. Not cheap, but then quality never is.
They are an excellent solution to keeping your figures safe, secure and, most importantly, visible.
You can view the entire range at the Wicked Brick website.
---
Thanks to Wicked Brick for sending the case for review.