Posted by

Huw

, 16 Aug 2021 19:00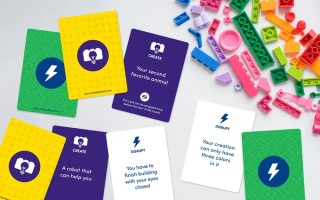 There's an interesting project on Kickstarter that its creators have made me aware of:
The Idea Brick is a fun card game designed to accompany interlocking plastic bricks that encourages creativity, problem-solving and mental agility for all ages.
It's easy to pick up and play – all you need is a pile of interlocking plastic bricks to hand, and a timer (just use your phone). Each round can take between 5 and 15 minutes, and there are no wrong answers. It's fun for kids, families, or competitive friends and helps foster imagination and tactile play. It can also be played in schools, or an office environment as an icebreaker activity, or to help structure an engaging, design-led workshop.
Find out more and pledge your support on Kickstarter: the project has just a few days to run and its funding target has almost been met.