Posted by Huw, 15 Aug 2023 14:00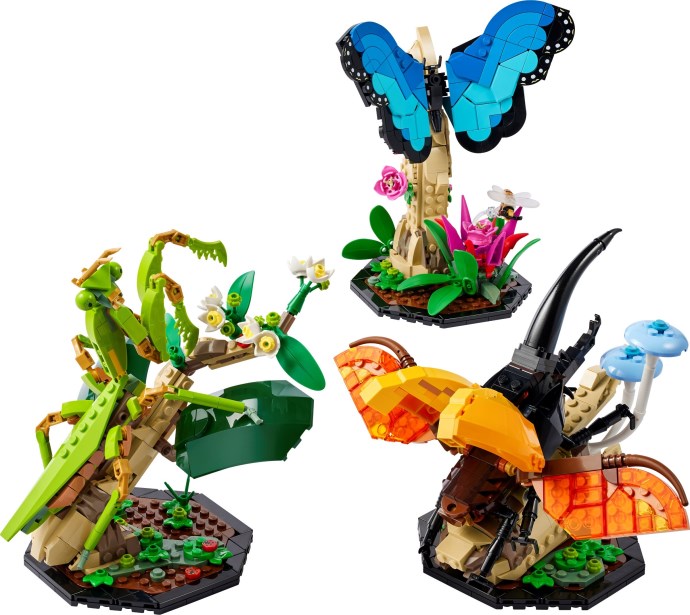 The 50th LEGO Ideas set, based on hachiroku24's LEGO Insects project that passed review in November 2022, has been revealed.
Here's the press release:
21342 The Insect Collection
1,111 pieces, rated 18+
$79.99/ €79.99/ £69.99
Available from 4th September at LEGO.com
The LEGO Group today unveils the LEGO Ideas The Insect Collection, originally conceived by LEGO fan José Maria.
The new LEGO Ideas 21342 The Insect Collection – the 50th product from the fan-sourced platform – includes each insect on a separate display based on aspects from their natural habitat. The Blue Morpho butterfly sits on a branch in the South American Amazon Rainforest. Next to it lies a buildable flower with a honeybee hovering over it. Move across to Central America afterwards and build the longest beetle in the world, with the male Hercules beetle sitting atop a decaying log. Its wings can be removed, and the shell closed to allow two display options. Finally, perched on a thin branch from an Asian forest, a Chinese Mantis preys on a small seven-spotted ladybird hiding amongst brick flowers.
---
Talking about his inspiration for the design, José says: "I studied science and fine art and have always been fascinated with the intricate details of the natural world. Also, as a lifelong LEGO fan who has come up with a range of new set ideas before, I find inspiration for new builds through my hobbies, which include photography and nature."
Talking about developing the set, Federico Begher, Head of LEGO Product Group comments: "When we saw José Maria's brilliant design, we knew it would be an instant hit with our fans! The intricate design is testament to José's impressive academic background, and passion for photography and nature. His excellent designs enabled our team of talented designers to really capture the essence of these remarkable creatures, from the colours to the structure and size. Every detail has been carefully crafted in LEGO bricks, resulting in a one-of-a-kind LEGO collection of three insects from around the world in one set. We are thrilled to share this magnificent build with the world and cannot wait to see the joy it brings to fans."
21342 The Insect Collection will be available globally via LEGO Stores and at LEGO.com from 4th September 2023 for LEGO VIPs and 7th September for all at the recommended retail price of $79.99 / €79.99 / £69.99.