Posted by

Huw

, 07 Apr 2021 12:00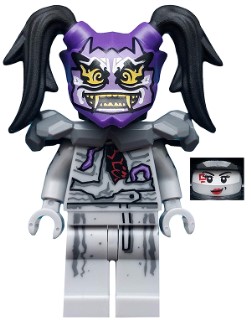 This article has been contributed by SearchlightRG:
Ninjago celebrated its tenth anniversary this year, which has prompted both the LEGO group and many fans to look back on the decade the theme has run thus far. For me, this has prompted a recent look at the theme's minifigures, and how expensive some of them have become in the time since their release.
In the course of my research, I discovered what, according to the Brickset database, are the top ten most expensive Ninjago minifigures. However, upon discovering that all ten figures are based on male characters from the series, I decided to go through and compile a second list of the most expensive female minifigures.
---
I set a couple of group rules in compiling these lists together to share with you. First, when I say minifigures, I mean minifigures: no Big, brick-built, or animal figures are included on this listing.
Secondly, I'm not including any of the figures released in 2021, most especially the Golden Tenth Anniversary figures we've seen in the first half of the year. While the Golden Wu released with Ninjago City Gardens definitely would make this list, I feel like the price may have been overinflated somewhat by certain folks capitalizing on the figure's exclusivity to a particularly expensive and sought after set.
I also left out an "exclusive" Sons of Garmadon Nya variant that came with a book, but was identical to the set version except for lacking a skirt piece. All prices given here are in U.S. Dollars, and may have fluctuated by the time you read this article.
NOTE: Spoilers ahead for the Ninjago animated series.
---
#10:
njo135

: Skylor (Jungle Robe) and

njo060

: Pythor Chumsworth
The tenth most expensive female Ninjago minifigure is the original version of Skylor from 2015, which is currently listed on Brickset as being worth $9.86 new.
Though she appeared in only one set, 70746 Condrai Copter Attack, said set was thankfully only $30 at the time of its release. As such, it was presumably pretty easy for folks to get their hands on. Skylor's price is thus affected primarily by the fact that the set came out six years ago.
---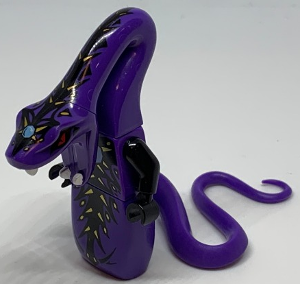 The tenth most expensive minifigure (both male and overall) is another original variant: Pythor from 9449 Ultra Sonic Raider, all the way back in 2012. This set went for $80 back in the day, making it a bit less accessible for Ninjago fans without a generous supply of cash.
Its price, coupled with the fact that Pythor was a fan favorite character and that this was the only set in which that version of him appeared, have brought Pythor's price up to a whopping $31.37 on Brickset, three times the value of Skylor's figure. Folks looking not to pay as much for the original Pythor as they would have for the whole set in which Skylor came are undoubtedly grateful for the 2019 Legacy version.
---
#9:
njo383

: Harumi and

njo417

: Neuro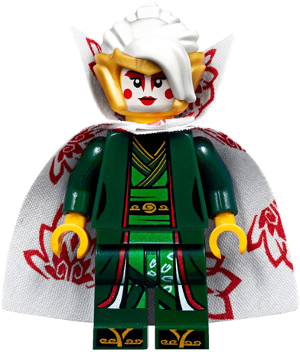 The ninth most expensive female Ninjago minifigure is 2018's Harumi, specifically her princess variant from 70643 Temple of Resurrection.
Once again, exclusivity to an expensive set matters, with a new Princess Harumi minifigure being valued at $12.92 on Brickset. This is $3 more than the Skylor variant discussed previously, despite the fact that the Skylor figure is three years older.
Those who are fans of the show may be a bit less disappointed not to get this variant of Harumi, which was only present in one or two episodes. Of course, a more casual version was prominent for much of the show's season eight, but has yet to be released physically.
---
Harumi's male counterpart, at least in terms of these listings, is Neuro, the Master of Mind.
Neuro was introduced in the animated series in 2015, but did not receive a physical release until 2017. Though his introductory set, 5004938 NINJAGO Minifigure Collection, was only $20 at release, it was exclusive to Toys 'R' Us.
This fact, coupled with the apparent popularity of the Elemental Masters, has caused Neuro's price to climb to $31.55.
---
#8:
njo288

: Maya and

njo066

: Acidicus
Eighth on the list of most expensive female minifigures for Ninjago is Maya, mother to Kai and Nya. She's currently priced at $13.15, having originally been released in an $80 set, 70627 Dragon's Forge.
Maya debuted in the animated series in 2015, though it wasn't until 2017 that we got a physical version, her name, and confirmation that she was Kai and Nya's mom.
There's been indications that Nya will be appearing in an upcoming season of the series, though whether that will eventually lead to a new minifigure is impossible to say.
---
Maya first appeared in flashbacks fighting in the series' historical Serpentine War; it's therefore somewhat fitting that the eighth most expensive male Ninjago minifigure is Acidicus.
This Serpentine General currently lists for $33.20 on Brickset, perhaps beating out Pythor due to only getting one variant to date. Then again, Acidicus was also exclusive to a rather more expensive set: 9450 Epic Dragon Battle.
Sadly, the other Serpentine General exclusive to that set, Skalidor, doesn't currently make the top ten most expensive Ninjago minifigures.
---
#7:
njo286

: Samurai X (P.I.X.A.L.) and

njo014

: Samukai
Well, how's this for a funny coincidence? The 2017 version of Samurai X, later revealed to also be a version of 2014's P.I.X.A.L. takes the seventh most expensive female minifigure slot. Exclusive to the $50 70625 Samurai VXL, P.I.X.A.L.'s first incarnation in this form currently rings in at $13.04.
While she came in a cheaper set than some of her less expensive predecessors on this list, perhaps either the popularity of P.I.X.A.L. or of the Samurai X aesthetic-or both-is enough to make this figure more desirable.
---
From one whose name includes the word samurai to one whose name is a play on samurai, we attend to one of the very first villains of the theme.
Samukai's Brickset price currently stands at $35.36, not surprising given that only one minifigure version of him has been produced to date, way back in the first year of the theme. While not quite as exclusive as Pythor or Acidicus, the two sets he came in were $70 and $120.
Coupled with his unique design, it's enough to make Samukai one of the most desirable-and thus expensive-Ninjago minifigures.
---
#6:
njo484

: Harumi and

njo418

: Nindroid White
We don't have too many cases of characters with multiple variants on these lists, but Harumi is one of them.
The version of her that comes with a uniquely printed Oni Mask of Hatred appeared exclusively in 5005257 NINJAGO Minifigure Collection, sadly the last Toys 'R' Us Ninjago Bricktober pack to be released before the company's bankruptcy.
---
The #6 slot on the male list goes to another Bricktober exclusive: the White Nindroid, who came in the same minifigure pack as Neuro.
Though essentially just a white repaint of General Cryptor, it is currently priced at $36.92 to Harumi's $15.13.
---
#5:
njo485

: Nya – Kabuki and

njo291

: Time Twin, Old (Krux / Acronix)
Bricktober figs occupy quite a few spots on this list, and the number five most expensive female Ninjago minifigure is no exception.
The kabuki version of Nya appeared in the same minifigure pack as the masked Harumi we just discussed. Currently priced at $16.05, she's nearly as expensive as the pack was when originally released, and a little over half the price for a mint condition version of the set according to Brickset.
Nya's behind the other Ninja in her number of variants, and minifigures that take inspiration from the animated series rather than the other way around are almost always a plus.
---
Opposing Nya on the male/overall most expensive Ninjago minifigure list is Krux, the older (according to the animated series) of the Time Twins who served as primary antagonists of the Hands of Time season/wave of sets.
Brickset's database currently has him valued at $30.92 new, just over half the original price of the single set in which he appeared, 70626 Dawn of Iron Doom. It's not exactly clear why Krux isn't quite as expensive as Acronix, the younger of the Time Twins.
A second, younger variant of the character did appear in the same Bricktober pack as the White Nindroid and Neuro, so perhaps that's why the older version doesn't seem to be in quite so high demand.
---
#4:
njo415

: Nancy and

njo049

: Fangtom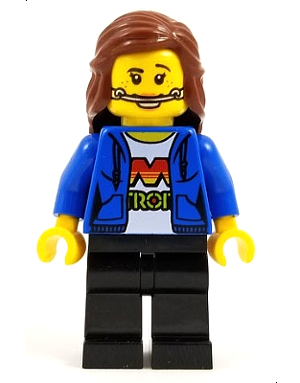 The fourth most expensive Lego Ninjago female minifigure is a rather unusual entry, not being based upon or having inspired-so far as I'm aware-any actual character within the franchise.
Nancy, currently priced at $17.53, was exclusive to 70656 garmadon, Garmadon, GARMADON!, a The LEGO Ninjago Movie set originally priced at $80. Though she serves only as a hapless civilian whom Lloyd must defend from Lord Garmadon, two members of his Shark Army, and a massive mech, Nancy comes with a couple unique parts that evidently make her quite desirable.
These consist of her head, which features a print with some considerable corrective dental equipment at work, and a torso featuring an M-Tron logo referencing a now over thirty-year old subtheme of Lego Space.
---
Rounding out the collection of Serpentine leaders/generals on this list is Fangtom at $38.30.
The two-headed Fangpyre appeared exclusively in 9445 Fangpyre Truck Ambush, which originally sold for $50. However, his rare status as a two-headed figure on top of the rare snake-tail lower body he sports have allowed him to edge out the other Serpentine leaders on this list.
The same cannot be said for his colleague Skales, who like Skalidor did not make the top ten for this list, possibly because he was the only general to appear in two sets.
---
#3:
njo301

: General Machia and

njo108

: Lloyd DX
From one snake general to another: the third most expensive female Ninjago minifigure is 2017's General Machia, second-in-command to Acronix and Krux.
The sole female member of the Vermillion faction of villains, Machia definitely stood out, including accessories that allowed her to be converted from a standard minifigure design to a configuration perhaps intended to resemble the earlier Serpentine Generals, but with a brick-built lower body rather than a single molded tail piece.
Machia appeared exclusively in the same set as the 2017 version of Samurai X, and a new minifigure of her is currently priced at $18.38 on Brickset.
---
Spot #3 on the male/overall list goes to a somewhat unusual entry: Lloyd DX.
Whereas the other figures on this list were either created for the Ninjago or movie lines, or else inspired by the animated series, this figure is a mish-mash of concepts. It depicts Lloyd in DX ninja robes, which were sported by the original four Ninja in 2011.
Lloyd was not introduced or made a Ninja until after his teammates had stopped sporting these outfits, however, and his armor and cowl pieces were, like the character, introduced in 2012. The sole set in which this figure appeared was a 2014 Target exclusive, which may have contributed to its climbing to a price of $39.90.
---
#2:
njo086

: Pixal (P.I.X.A.L) and

njo292

: Time Twin, Young (Acronix / Krux)
P.I.X.A.L. takes not only second place in terms of female minifigure price, but also a second spot on the list that outdoes even Nya, the most prominent recurring female character in the theme.
P.I.X.A.L.'s original 2014 variant lists on Brickset for $18.86, nearly a third the original asking price for her sole set appearance, 70724 NinjaCopter.
---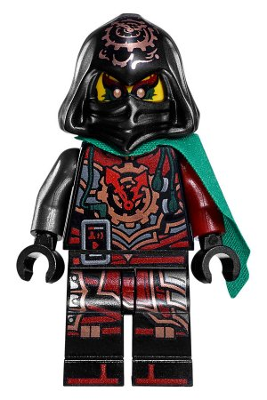 Her counterpart on the male list is Acronix, the younger of the two Time Twins, who is currently listed at $52.18.
Here's hoping Krux is only less highly priced because he has two variants to Acronix's one, and not because Krux is the old man of the pair.
---
#1:
njo521

: Akita and

njo107

: Overlord (Golden Master)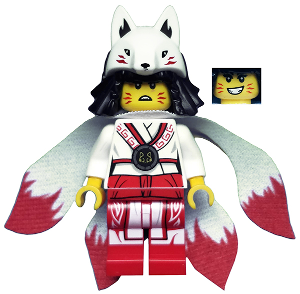 Last, but certainly not least, the highest priced female Ninjago minifigure according to Brickset is Akita. Appearing solely in 2019's 70768 , Akita is now listed for $21.78 new on Brickset, a little over a fifth of the $100 original price for the entire set.
Her exclusivity is undoubtedly a big factor in that price, as are her unique accessories. Akita comes with a unique cape and combination hair/headdress piece, and her torso, leg, and face prints are also exclusive.
All of these contribute to quite the aesthetic, which makes it quite desirable to the serious collector, if a bit frustrating for those with less disposable income…or desire to spend so much of it on a single Lego minifigure.
---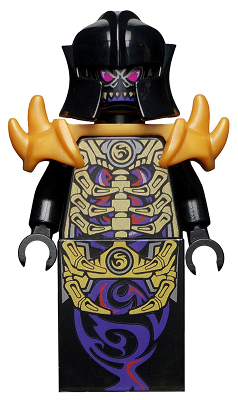 Rounding off the list of most expensive Ninjago minifigures, as listed by Brickset, is the 2014 version of the Overlord. Comprising just one unique component less than Akita, the Overlord nevertheless is currently valued more than twice her price on Brickset, being currently valued at $52.40.
It's no surprise for the original ultimate evil of the Ninjago theme, and one who remains popular despite having been almost entirely absent from the series for seven years now.
Of course, the price is undoubtedly also influenced by his exclusive appearance in a single set: 70728 Battle for Ninjago City. Originally sold for $120, a new copy is now listed on Brickset for just shy of $200, from more than twice to nearly four times the current list price for the Overlord.
Many fans are undoubtedly grateful that Ninjago: Legacy has introduced a couple variants of the Overlord as alternatives to the excellent but now rather difficult to obtain original version. We may also be grateful that, since 2014, the main villains of various Ninjago waves tend to be available in two or more sets rather than being exclusive to one.
This has undoubtedly helped to keep most of them cheaper and thus easier to obtain for those fans, older and newer, who aren't fortunate enough to be able to get them or their accompanying sets the first time around.
---
Speaking of years, now that we've looked at each minifigure, here's a breakdown of the most expensive minifigures by year they were released:
2019: 1 (Akita)
2018: 3 (Princess and Masked Harumi, Kabuki Nya)
2017: 8 (Acronix, Machia, Krux, Maya, Neuro, Samurai X, White Nindroid, and Nancy)
2016: 0
2015: 1 (Skylor)
2014: 3 (Lloyd DX, P.I.X.A.L., and the Overlord)
2013: 0
2012: 3 (Acidicus, Fangtom, and Pythor)
2011: 1 (Samukai)
Interestingly, most of the twenty figures we've covered here are from just four years ago, rather than nine or ten as you might expect. After all, when it comes to merchandise age typically leads to scarcity and from there to increased expense. In the case of our 2017 figures, however, I suspect that the price hike may be from the fact that the year's regular Ninjago wave had to share a year, and possibly some budget, with those sets based on The LEGO Ninjago Movie. Could be some of these figures would have been a bit less exclusive otherwise.
Well, that concludes my analysis. I hope you find it an enjoyable read.
---
Note: all images are from BrickLink.com and displayed here with permission. All values quoted are also from BrickLink and are based on items recently sold there. Values vary over time and may have changed since this research was conducted.